On-Camera Training
Today, small and large companies are using video, web conferencing and live streaming more often to communicate to internal and external audiences through their websites, YouTube and social media platforms. There are countless opportunities to incorporate video into how you market your company, attract new customers and promote your services. So your ability to communicate in an interesting, compelling and authentic way is crucial to your success.
Why On-Camera Training
Learning the techniques professionals use to make communicating on video look easy is the objective of Walk West's On-Camera Training. Led by Emmy Award winning television journalists Sharon Delaney and Melanie Sanders, you'll learn their proven secrets to being effective and relaxed in front of the camera.
93% of online experiences begin with a search engine and YouTube is the #2 search engine with more than one billion unique visits each month.
As computing devices get smaller and smaller (desktop to tablet to mobile phone), 20% of people will read text while 80% of people will watch a video displaying that exact same content.
Viewers' attention span is continues to dwindle so you must capture their attention with an engaging on-camera performance.
How We Do It
Lights, camera action! On Camera Presentation Training
Our On-camera training is not media training. This is a terrific add-on course to our popular media training workshops that we've offered to executives, authors, physicians and entrepreneurs for many years. It builds upon the message development, body language and vocal delivery foundations we teach in media and presentation training. But in this course, we get up close and personal with multiple on-camera sessions, wardrobe consultation, hair, make-up and overall appearance for on-camera success.
"Our team continues to thrive following the on-camera training you provided last spring. Last month we facilitated a scientific workshop for 141 people over three days and our team shined. It was a proud moment and we appreciate your contribution to making that happen!"

Emily Wallace,
Thrivner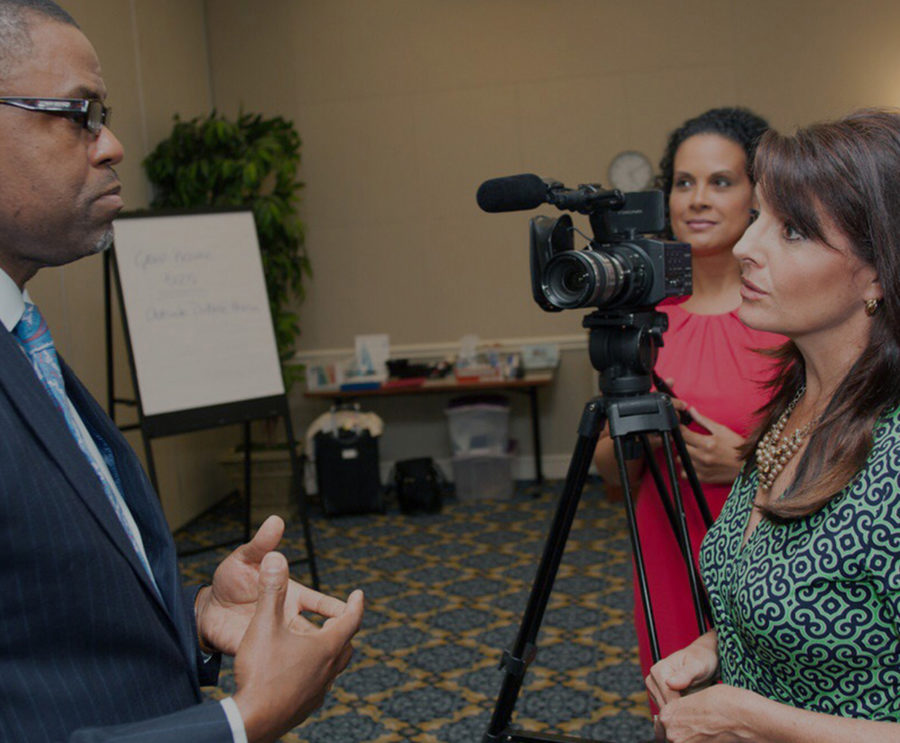 Get Started