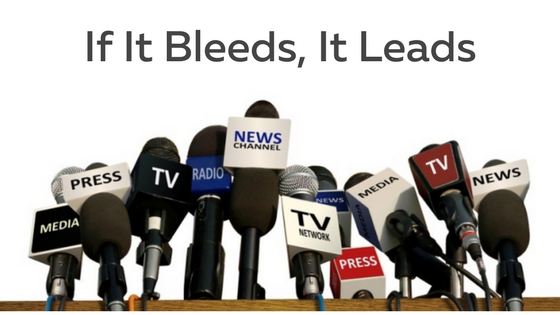 Because people lie. Seriously. Stay with me.
As a television journalist for 20 years covering hundreds of stories in cities across the US, I witnessed a pattern of what the media considers "newsworthy." And it totally plays into the notion of "fake news" and all the rigged stories from Russia that canvassed our social media feeds prior to the 2016 election.
Let me backtrack so you can understand where I believe this originates. At television stations across the country, news managers often conduct focus groups of people in their community to discern what they want to see on their local newscasts. Over and over again, viewers would tell them they want to see more positive news, less crime, less negativity. Viewers would pose the question, "Why can't you show the good stuff happening in our city?"
The Good News Newscast
So, in 1997, a network affiliate in Orlando, Florida decided to launch a 4:00 p.m. newscast that would only feature "good news." The kinds of stories families would allow their children to see and hear when they get home from school and work. Because that's what the focus group told them they wanted.
Guess what happened in the first ratings period after launching the "good news" broadcast? No one watched. So, they transitioned to a conventional newscast where crime and grime lead the headlines, and ratings rose.
Why is that? I contend it's human nature. Think about it. You're driving home in rush hour traffic and it's slowing down to a crawl. You realize there's a car accident on the shoulder of the road. Everyone taps their breaks to see what happened. Most people try, but can't look away. The jelly-neckers, out of curiosity, want to witness the calamity at hand.
Take that idea into a newsroom, and it translates into what we call in Walk West's media training workshops…The 4 C's.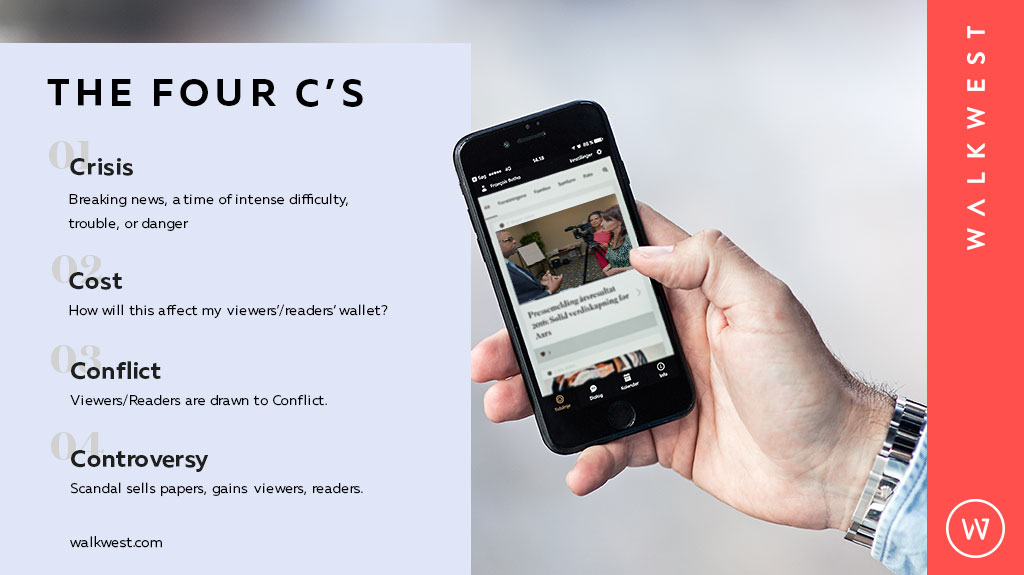 Here's how the 4 C's typically play out in editorial meetings at the majority of newsrooms across the country. It's 9:00 a.m. and the morning meeting ensues with a collection of producers, reporters, photographers, assignment editors, and managers. They go over what stories need to be followed up on since the early morning newscasts. They sort through media releases to see if there are any must cover events happening that day. They discuss what the competition covered the night before and if they missed anything. And then, each reporter has to pitch 2 to 3 stories that could lead any of the afternoon broadcasts. In order for their stories to air within the first five minutes of a 30-minute newscast, they generally must be driven by a few or all of the 4 C's.
Crisis

– breaking news events that captivate us because they affect the human condition

Cost

– stories that influence our wallet that appeal to almost everyone

Conflict

– that's the basis of most storytelling with a protagonist and an antagonist

Controversy

– the more scandalous, the higher the ratings
I'm not suggesting this is the way gathering news should be done, but I am saying this is the way it is done in most mainstream media outlets. It's about the almighty dollar and the neverending pressure to gain more viewers, more clicks, more shares, more impressions, etc.
Of course, this is generalized, and I still believe there are many journalists and news organizations out there who strive to tell our stories authentically and factually. For instance…
Respite
To find respite from the horrific headlines of the day, I settle in with a big cup of steaming coffee on Sunday mornings to watch CBS Sunday Morning. I believe it's one of the few remaining shows featuring true storytelling that breathes, makes you think, engages your curiosity and often highlights people doing good things. The long form narratives allow the viewer to connect more deeply with the subject matter and offer multiple viewpoints for consideration. I'm quite sure the editorial team at CBS Sunday Morning does not use the 4 C's to plan their content.
Are you going to read and watch the news differently now? Connect with us at Walk West and learn more insights about today's media with our team of award-winning journalists.