Hello, it's the Walk West (formally Greenroom Communications)
team
here — yes we're the people that work with that crazy
Holderness family
. But we don't JUST work on Holderness Family videos — quite the opposite actually.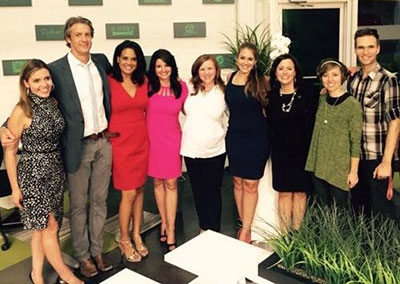 Walk West (formally Greenroom Communications) is an award-winning video production and digital marketing agency that works with businesses of all kinds. We work to humanize your brand with everything from social media marketing and SEO to media training, professional video creation, and more.
So what's it like to work with Kim and Penn? To let you in on a little secret… we love it.
One of the most common questions we get asked is "are they really as fun as they seem in their videos?" And the answer is yes. They're great to work for, they're great to work with, and we're thankful that they, along with the third managing partner, Sharon, created a fun-loving, hard-working company that offers a wonderful work/home life balance.
So, in order to show our appreciation for those singin', dancin' Holdernii, we decided to take a crack at what they do, and come up with an original song and music video to surprise them. We quickly learned it was not as easy as they make it look.
Many of you may not realize this, but when Kim and Penn come up with an idea for a new song or a music parody, they typically conceptualize, plan, record, shoot, edit and post the video within a matter of days. No, really. Almost all of their video shoots take place in one day. Almost all the video editing takes place in one evening. We have no idea how they do it, and after trying it ourselves, we are even more amazed.
Here are the steps we took to create the "Merry Christmas from the Greenroom" Video: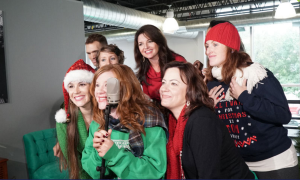 Step 1: Come up with the idea. We have a very creative, talented team all around, so this part wasn't too difficult.
Step 2: Write the song lyrics. Originally, we thought about just re-writing the lyrics to a Christmas song. But Ketti, our Business Manager, found that with all of the crazy Holderness antics we wanted to include, no Christmas beat in the public domain would really suffice. (Fun fact: she does some of her best lyric-writing while waiting in her kids' carpool lines). So one carpool ride later, she created an original score. (Greenroom's FIRST original score WITHOUT the help of our Creative Director/Musician, Penn.)
Step 3: Lay down the track. We are fortunate enough to have a VERY musically talented friend and fellow YouTuber here in the Raleigh, NC area: Chase Holfelder. He took Ketti's lyrics and wrote an original tune for us. (If you've never heard Chase's other work you should definitely check out his YouTube channel. He has an amazing voice and does awesome covers. He also does this cool thing where he converts popular songs from the major key to the minor key — you won't be disappointed!)
Step 4: Record the song. The whole Walk West (formally Greenroom Communications) team met at Chase's studio and did our best to sing and rap (check out our behind-the-scenes video of this below!) Everyone really did have a line included in the final song, even though this was, for many of us, our first time in a recording studio. In fact, this was only Jen's second week of work with us. She's our Social Media Manager and we didn't tell her this was in her job description — we're glad she's still with us.
https://www.youtube.com/watch?list=PLmtaN_eovXhF5VPz-yy8XfUxKRUphv0zy&v=COKvOumgDjw
Step 5: Shoot the music video. In true Holdernii fashion, we shot the whole music video in one day. Our Director of Production, Zak, recorded almost all of the footage, and our Producer and Media Trainer, Melanie, took over the task when Zak was displaying his impressive dance moves. In fact, all of the dance moves you see in the video are original, on-the-spot grooves from the Walk West (formally Greenroom Communications) team.
We had no idea that Sharon and Karyann, our SEO Specialist, could channel the Beastie Boys so well. Or that our Graphic Designer, Sonja, was so comfortable and dynamic in front of the camera. We did know our Director of Digital Strategy, Ann Marie, was a performer – but who knew she could perform with such agility at 35 weeks pregnant? (Congrats on your new baby girl, Ann Marie!)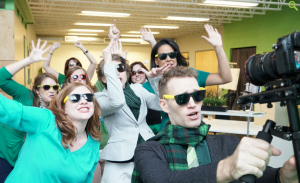 All in all, creating the "Merry Christmas from the Greenroom" surprise music video for the Holderness family was equal parts exciting, challenging, amusing, exhausting and heartfelt. We definitely have even MORE of an appreciation for the work Penn and Kim do to produce these types of videos now. And who knows, maybe you'll see some more Walk West (formally  Greenroom Communications) videos pop up in the future…
https://www.youtube.com/watch?v=iJTyOnS2-VU
Want to learn more about Walk West? Check out some of our work here or interact with us on Facebook, Twitter and Instagram!