A logo is the face of your brand. The right logo design grabs attention, makes a strong first impression, and expresses who the brand (and company) truly is. A good logo should help a brand stand out from the competition, foster loyalty, and become familiar to its audience.
We often work with companies to update their branding, which usually includes a logo refresh. When we're helping a brand update its logo, this is how we do it:
When our team begins a logo project, we sit down with the client to discuss their ideas and goals for the project. But before that conversation begins, we have to do some research. To start, we'll look at the current brand assets and logos. We'll go through their website, their social media profiles, and any physical marketing collateral they have to get a better feel for their identity.
This includes researching the company — learning who they are, what they do, their mission and values, their location, their industry, and more. After we understand who the company is a little better, we look at its competitors and the industry landscape they're in. Then, we shape our questions for the client based on our research.
Step 2: A Conversation With the Client
When we meet with the client to discuss the project, we usually talk about all the things we researched above. It's important to hear directly from the source about the brand's values, its identity, and the organization itself.
Depending on the brand, we'll also ask plenty of fun questions to help start a more creative conversation. These can include things like "If your company were a car, what kind of car would it be?" Fun questions can help loosen up the conversation and get the team thinking creatively. Plus, it's also fun to see how the answers to the question differ depending on who at the company is answering them. This is a great way to glean additional insights into who the brand is and how its employees view it.
After this beginning conversation, we dive into the brand's differentiators. The goal is to understand what kind of feelings the brand, and its identity, should evoke within its customers.
Both step 1 and step 2 are a part of our larger Discovery process, which we undergo with any new client wanting a brand refresh or site redesign.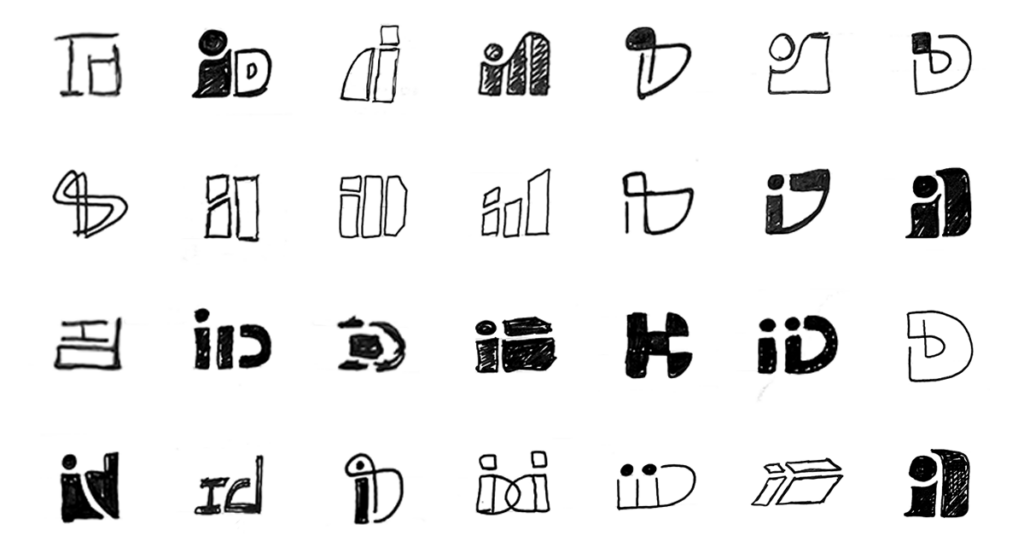 Once we have all the information we need, our designers get to work. The initial ideation is a combination of drawing, sketching, and researching other logo examples.
Sometimes I'll draw the same shape or letters over and over again and see what comes about when drawing. Or, I'll look at a logo I find interesting or applicable and think "How can this shape look like that?" or, "How can these letters look like that shape?"

Matt Norton, Senior Brand Experience Designer
During this process, no idea is a bad idea. In fact, sometimes a "bad" drawing can lead to a polished, well-designed logo. While our designers are brainstorming and sketching, trying to figure out what elements will build the logo, they might draw a lot of things that aren't "good," but will eventually help them develop an idea that turns into the final concept that is successful.
Our team uses a variety of design "rules" and guidelines that help us create better logos. One is that, if you can't draw the logo in under five seconds, it's not a very good logo. Think Nike, Apple, Instagram, iconic logos that we all know: How long would it take to doodle the Nike swoosh? This isn't a hard and fast rule, but more of a guideline for thinking about the design process. A logo does not need to be overly complex.
It's also important to note that when we start the design process, we're designing intentionally with the client's brand in mind. We incorporate a lot of different elements into our logo design, including the differentiators that make your company unique, its mission and services provided, and its identity. It's not just about designing something that looks cool; we're creating something meaningful that represents who the brand is.
For example, when we worked with Integrated Design on their logo, one thing the brand emphasized was how their project approach is very connected and, well, integrated. So, for their logo, we devised a continuous line throughout the design to represent how everything is connected.
The initial ideation also begins in black and white. For branding and marketing, the majority of logos will at some point need to be used in black and white for various purposes. If it doesn't work in black and white, it likely won't work in color. By starting the process in black and white, it's always easier to apply color after.
Step 4: The Client Review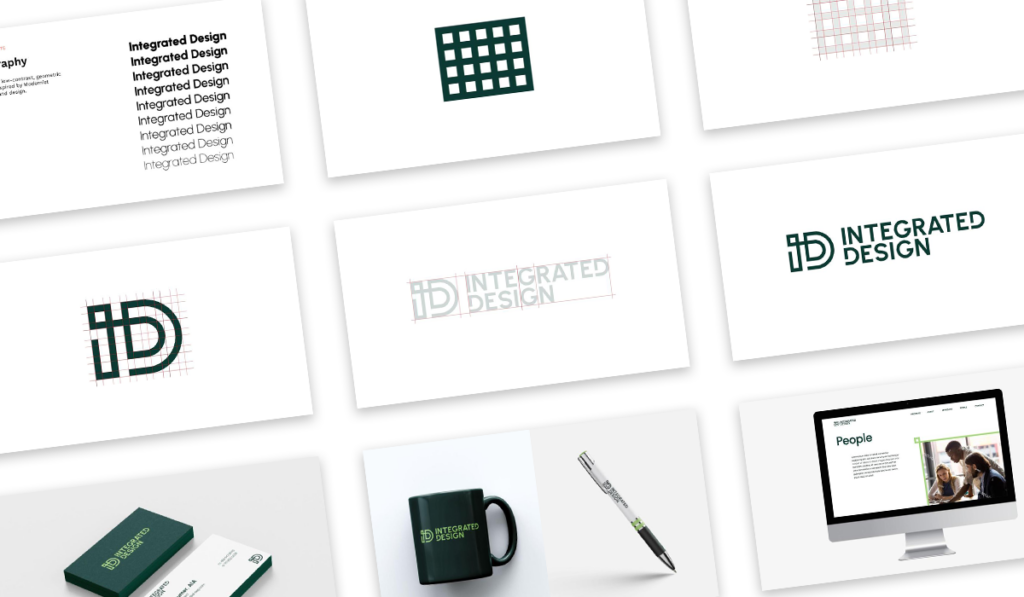 When we show logo concepts to the client, we tell a story about why the logo looks the way that it does. For every logo we design, there is always a "why." Sometimes, the logo is a representation of the company's values. Or, it might be an abstract shape that represents a piece of what the company does, or its products and services.
During this presentation, we share the values and meanings that helped drive the logo's design. We want our client to understand our motivation, and what's driving us, so that they know what to look for when the logo is presented. Then, when we unveil the logo, we re-explain the meaning behind it. Sometimes we communicate that via a diagram, or just in conversation.
One of the most important parts of this presentation is showing the client trial applications. It helps to see exactly how the logo will look in the wild. This includes the usual things like business cards, folders, letterhead, and stationary, but also fun applications like mugs, T-shirts, billboards, or airplane wraps. We want to present the logos creatively, but also in a way that sparks emotion within the client. A good logo should make you feel something when you look at it. We bring it to life for the client.
Step 5: The Feedback Process

As our team begins designing potential logos, we share what we have with the client to get feedback. We like to turn this process into a conversation. Feedback via email is helpful, but it's easier to understand the context behind it if we can speak directly to the client. This way, we're able to ask follow-up questions that help us design a successful logo that reflects their needs and goals.
When we receive feedback, we comb through it carefully. Our designers apply that feedback to the design thoughtfully, while still using their design expertise to ensure the logo both looks good and is practical. For example, if someone wanted a logo that was super detailed and intricate, you have to think about how it would look at a quarter of an inch on a document. Are people going to understand all the details when they look at it? When designing a logo, you have to be flexible about all of the elements within it to ensure that it looks good at every size.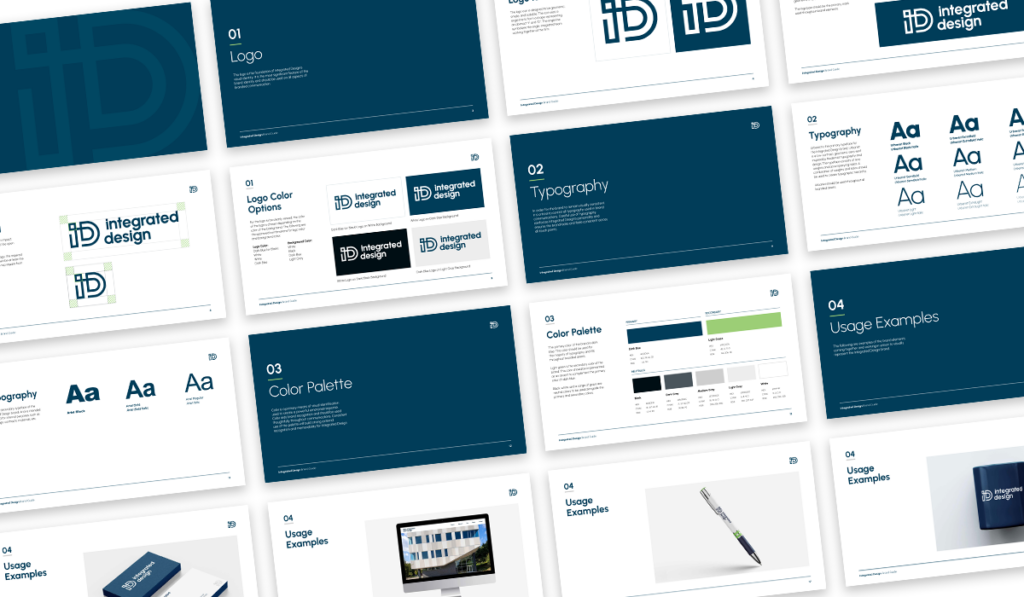 After the client review, we may need to make small changes or tweaks to the logo design. But once everything is approved, we build out robust brand guidelines to keep the logo usage consistent across channels and mediums. The goal is always to maintain the impact of the logo and the brand.
Once the guidelines are in place, we roll out the logo. Typically, this includes exporting the various logo variations and providing the client with plenty of file types. For example, we provide just the logo icon, the logo in a vertical and horizontal format, black and white, full-color, and any other variation the client may need.
At the end of the day, we may be exporting 40 different files — but we want to give the client every variation in every file type so they are ready to use their new logo and have everything they may need.
Creative Brand Work at Walk West
The logo process is just one part of our branding services. Interested in learning more? Reach out to us today.