Walk West is excited to announce the first episode of our new podcast, Talk West. The podcast will interview industry trailblazers who embody our company fabric of metaphorically walking west and forging ahead. Like the pioneers who've set out before us and headed west into the unknown, we will highlight stories beyond the traditional and expected. Each episode of our podcast is designed to provide listeners with real-life examples and information to excel in any industry.
For our first Talk Walk episode, our Director of Digital Media, Ann Marie Taepke, sat down with
Dave Sonntag
of
Decibel Management
. Dave shares an extensive amount of knowledge from his 10+ years of experience working in the events management industry including where he sees events heading in the future.
"You're going to see the event mix do nothing but increase. People are looking for experiences,"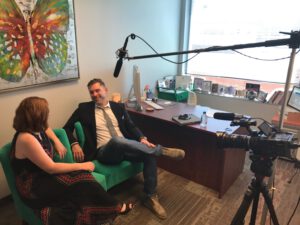 he explains during our discussion. Dave believes high-end, personal experiences that are shareable will be one way we see events evolve over time.
Dave Sonntag shares stories from SXSW, conferences, tradeshows, and national festivals on executing one-of-a-kind events with the attendee experience in mind. Our interview covers the pre-planning stages of your event, including permitting, run of shows, and outdoor spaces, all the way to social media amplification, livestreaming, and augmented reality.
Listen to our Talk West: Episode 1 and let us know what you think! Stay tuned for the next episode in our Talk West podcast series. You can also give us recommendations below of who you think should be our next Talk West guest.