Since 2011, I've been obsessed with seeing how brands who shell out $5M+ for a Super Bowl ad extend their :30 spot digitally.  According to Ad Age, up to 87% of people watch television with a mobile device as a 'second screen,' giving brands a perfect opportunity for richer engagement and purchase consideration with consumers in real-time.
If the Super Bowl is the most tweeted event of the year, you would think having a robust digital strategy would be a no brainer.  In larger corporate settings, however, the lack of one is likely due to a communication breakdown across departments and agencies to execute. There were two clear winners in 2017, Snickers & T-Mobile, who overcame these obstacles and executed their campaigns flawlessly across both traditional and digital mediums.
Snickers Live Super Bowl Ad
There were about a dozen newcomers to Super Bowl LI placing ads for the first time including Proctor & Gamble, Nintendo, Yellowtail, Lumber 84, and King's Hawaiian.  However, Snickers had the most daring ad spot by airing the ad live, featuring Adam Driver. While Snickers attempted to say it was the first to have a live ad during the Super Bowl, they were reminded that 36 years ago Schiltz ran a taste test shown live during the Super Bowl. The Snickers live ad was highly coordinated with 4-5 camera angles, special effects, and stuntmen.  The ad also mentioned the score of the game to prove they were live, a key move given the high production value.

While the live ad was an impressive feat, what was more impressive is the digital integration leading up to their big moment.  Snickers livestreamed for 36 hours over Super Bowl weekend on multiple platforms.  As of February 6th, their streams featuring Tyler Oakley, Kandee Johnson, Betty White, and Adam Driver, generated 3.2M views and over 21K engagements actions from their Facebook page alone. Leveraging the channels of the influencers they worked with along with their other platforms most likely resulted in higher numbers. Snickers extended their Super Bowl ad spot with a cohesive digital campaign by interacting with viewers through their livestreams for an entire weekend. They leveraged influencers to star in their segments which expanded their reach, and made a bold move to air their ad live.  The #SnickersLive hashtag received a reach of 9.6K with 25.6K impressions.
T-Mobile Unlimited Engagement
T-Mobile owned Twitter on Sunday night, after airing several celebrity ad spots and including unique hashtags to extend the conversation online. Hashtag use in Super Bowl ads declined in 2017 with only about a third of commercials using them, preferring to use URLs instead. While it is good to set your own hashtag as a brand and properly track conversation, you should only use them if you plan to engage back with your audience.  T-Mobile employed (what seemed like) a war room of community managers responding back to mentions to keep the conversation going.  We know from a 2014 study by Twitter around television programming, live tweeting (especially by actors in the show–or in this case commercial) causes a lift in followers and share of voice.
T-Mobile used three distinct hashtags, #unlimitedmoves, which was their most popular, followed by #thesafewordisunlimited and #bagofunlimited.  Overall, the conversation resulted in 145.3M impression from Twitter alone as of February 6th. Some of this lift could have also resulted from Verizon tweeting real-time video responses to the T-Mobile spots (as well as Sprint) and slamming the network's claims.  It was unfortunate though, that Verizon brand and Verizon customer service were not in lock step.  Their customer care team responded back to T-Mobile ad actress, Kristen Schaal, thinking it was a real customer complaint. It is important to engage with mentions of your brand during live events as well as keep all parties in the loop on strategy and responses.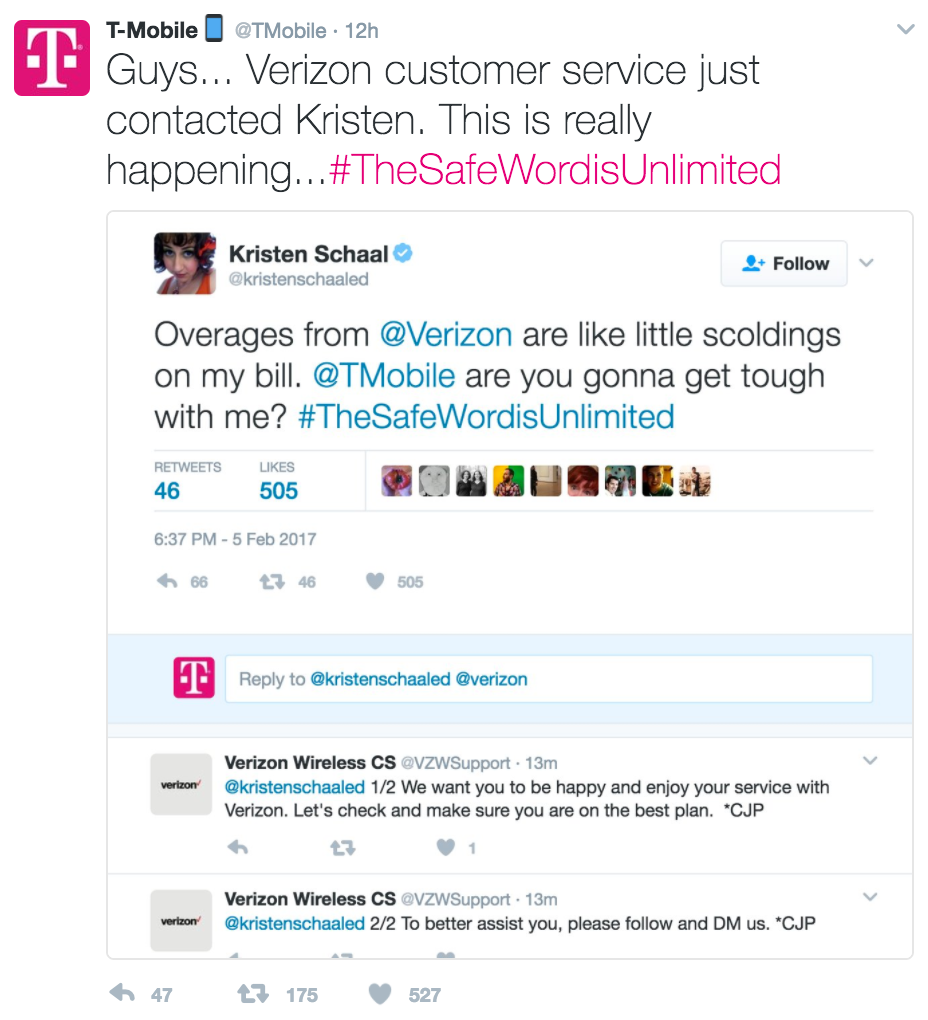 Budweiser + Netflix: Additional Insights
According to Forbes, the top three brands with the largest share of voice during Super Bowl LI were Budweiser (18% SOV), Netflix/Stranger Things (11.5% SOV), and T-Mobile (9% SOV.)  For Budweiser to have the highest share of voice and one of the most talked about commercials with 10M Facebook views as of February 6th and 29M impressions on their #ThisBudsForYou hashtag, their engagement was underwhelming.  A series of canned responses were the primary form of engagement during the big game on Twitter.  Even the genius #ClydesdaleCam airing live during the game, showing the horses having their own Super Bowl party, could have been more interactive.  Wonderful Pistachios is another brand example who had a call to action to follow @ElephantErnie on Twitter only to find the brand talking at consumers and not with them.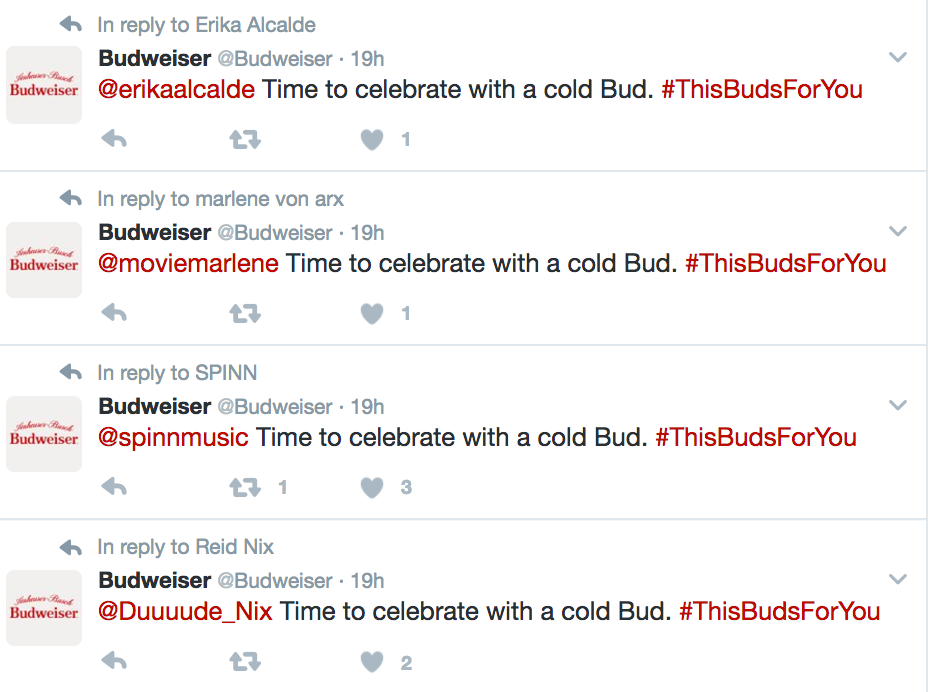 Lastly, a brand who did not buy an ad in Super Bowl LI, but certainly capitalized on an opportunity, was Eggo after having a throwback ad featured during Netflix's Stranger Things 2.  No doubt the brand was given a heads up by Netflix, but they gave us a great example of how to not only engage with users but keep the conversation relevant.  They responded to users with a series of Eggo-centric GIFs from Stranger Things after the spot aired as well as leading with a message from 'the upside down.'  Stranger Things also had good engagement, responding to a small handful of users in all upside down text on Twitter.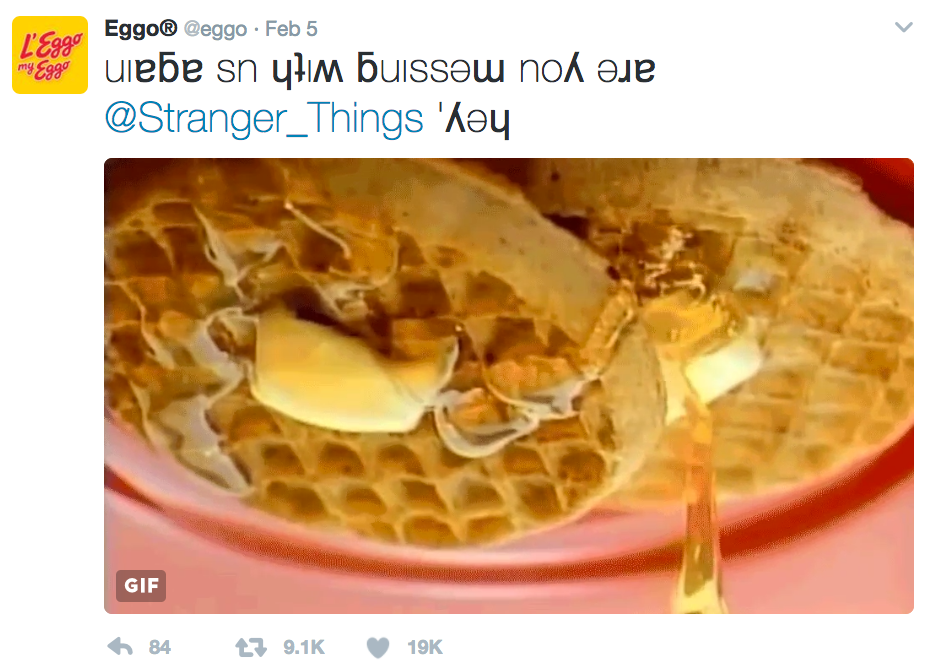 What was your favorite digital integration from Super Bowl LI?  Let us know, and reach out for more information on how we can help boost your digital marketing integration.