First, let me say this: A large number of us here at Walk West are big Saturday Night Live fans, but no more than our Creative Consultants, Penn and Kim Holderness. So when SNL decided to parody The Holderness Family in their SNL 40th Anniversary holiday episode, you can guarantee we all nearly lost our minds.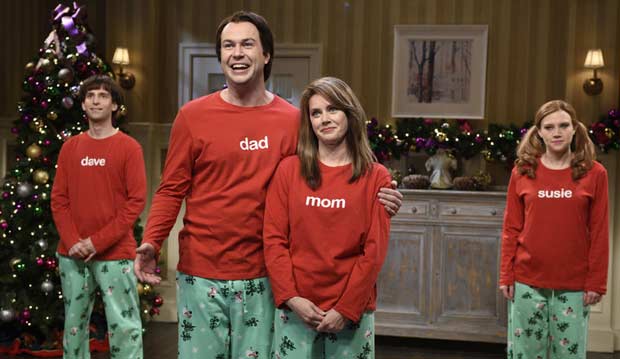 The #XMASJammies parody (of a parody) entitled 'Christmas Sweatpants' featured a family by the name of The Tenderfields giving an update since their viral video fame the previous Christmas, with Amy Adams (Mom) and Taran Killam (Dad). Highlights included Killam puking on Matt Lauer at the Today Show and Adams starring in an HPV commercial–neither of which happened in Holderness world as far as we know. And unlike the children Kate McKinnon and Kyle Mooney portrayed, the real Holderness children are perfectly delightful. News outlets like our local News & Observer wondered how The Holderness Family would receive the sketch, but we guarantee it gave us all a great laugh.
You can view the original #XMAS Jammies video along with their 2014 song below:
PS. – Ron has demanded to join our team, we will be adding his bio soon… just as soon as Penn is done making him breakfast in his Christmas sweatpants.