Happy Pride Month! It's a wonderful time of year: When we come together to recognize the indomitable spirit of the LGBTQ+ community. June is a time to celebrate the many milestones made by LGBTQ+ individuals and remember the historic events that brought us here.
It's also a time of rainbows. So many rainbows. The most rainbows. Every June, corporations of all shapes and sizes roll out their rainbow logos, Pride-themed merchandise, and a multitude of commercials and advertisements featuring same-sex couples. This makes sense when you consider both the size of this community and the money it holds. While the population is estimated in the United States to be a mere 7.1% according to recent Gallup polls, their buying power is immense — an estimated $917 billion as of 2015.
In some ways, this advance of rainbow ads is a great sign of the progress our society has made in accepting LGBTQ+ people. In other ways, it's lackluster. Many consumers find advertising like this inauthentic. But how does it become that way? When does representation become a shameless cash grab?
Rainbow Washing: When Representation Rings Hollow
Put simply, "rainbow washing" is when advertisers use rainbow imagery to appeal to LGBTQ+ consumers without taking any actual steps to show community support. For the last several years, companies who engage in rainbow washing plaster their social media feeds with rainbows, images of LGBTQ+ employees wearing company pride merch, and references to progressive organizations. Then, at the end of the month, it all evaporates. They've got the "pink dollar" and, now, it's back to business as usual.
The switch back to regular advertising is jarring and very noticeable to consumers. It's inauthentic when brands roll out the rainbows for one month of the year, only to go silent for the remainder.
This month, you'll probably see a lot of rainbow logos across social media as well as a plethora of Pride-themed ads. Companies ranging from Old Navy to Coach are selling rainbow merch with messages around Pride, acceptance, equality, and love. But, whether or not those products are received well by consumers depends on that brand's values and actions the other 11 months of the year.
Lead With Authenticity, Your Customers Are Watching
Consumers today are savvier than ever. They can tell when a brand is being authentic and when they're virtue signaling. As such, it's more important than ever for brands to lead with inclusive intentions. If you're selling bright rainbow T-shirts plastered with "Pride," "Love is Love," or other similar messaging, but you donate to anti-LGBTQ+ causes or organizations, consumers will know.
No one likes a phony, especially during the one month of the year when LGBTQ+ people can celebrate who they are — authentically and with pride.
Ways to Support Pride Without Rainbow Washing
Supporting the LGBTQ+ community goes so much further than hanging rainbow flags or unveiling a new logo in June. These are nice gestures, but they mean nothing if the company isn't following them up with tangible action and support.
To assess whether or not a brand is genuine, many people will first look to see how they treat their LGBTQ+ employees. As a company, do they offer leave policies that are inclusive to all families? Do they make it a habit to ask for pronouns? Does their health insurance cover gender-affirming healthcare? If they operate a storefront or facility, are there gender-neutral bathrooms?
Something as simple as advertising your pronouns can go a long way in building trust.
Brands & Companies: How to Be a Better Ally
Here are some tangible things that companies can do to be a better ally to the LGBTQ+ community (beginning with their employees!):
Revise company benefits to feature more inclusive language and see if your offered healthcare coverage includes gender-affirming care.
Learn about the history of Pride and how the mainstream LGBTQ+ rights movement that we know today began with the Stonewall Riots of 1969.
Double check who your company is donating to and consider choosing charities that align with your values.
If your company is hosting or promoting Pride events internally, let LGBTQ+ employee resource groups lead the conversation. But, don't just delegate the work to them without offering support.
How Brands Can Lead With Authenticity in Their Marketing
We're not saying that brands shouldn't sell Pride merchandise. People of all identities and backgrounds can celebrate Pride, which is why it's such a fun month! Just make sure that whatever merchandise you're selling is inclusive, authentic, and probably designed by someone who identifies within the community.
Instead of slapping some rainbows on a creative ad and calling it a day, brands should strive to demonstrate allyship in their marketing campaigns. According to Sprout Social, 70% of consumers say that it's important for brands to take a stand on social and political issues and 67% think that brands are good at raising awareness around public issues. For example, during Pride Month 2022, Tinder used its marketing platform to advocate for the end of the FDA legislation that prohibits gay men from donating blood.
Whatever direction a brand chooses to take during Pride month, it needs to reflect its own values. Furthermore, savvy marketers know that the best way to tell LGBTQ+ stories is to hire LGBTQ+ creatives to tell them.
Communicating with Grace: A Case Study
The messaging a brand uses online should reflect its own values. As an example, we want to highlight the incredible job that King Arthur Baking does in shutting down negative comments around its pride marketing efforts.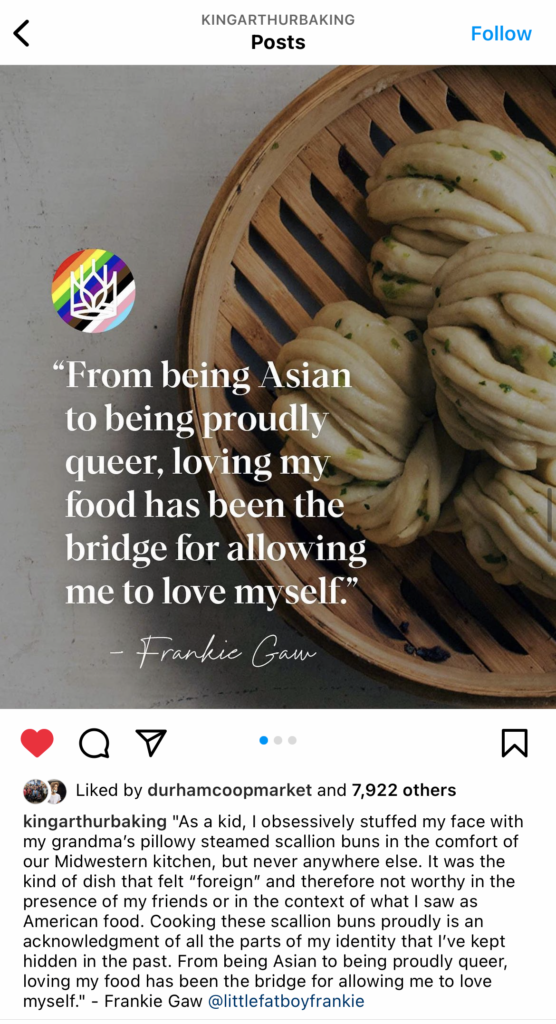 For the past four years, King Arthur Baking has posted content and recipes for Pride Month. They highlight diverse bakers who are sharing their recipes, and their messaging focuses on love, acceptance, community, and understanding.
This year, Pride marketing has become especially contentious with the people who don't agree with LGBTQ+ equality. As such, you've probably seen a ton of negative comments and posts about brands "going political" by posting about Pride online. When King Arthur Baking received those comments on their Pride Month posts this year, they responded authentically, and with a lot of grace.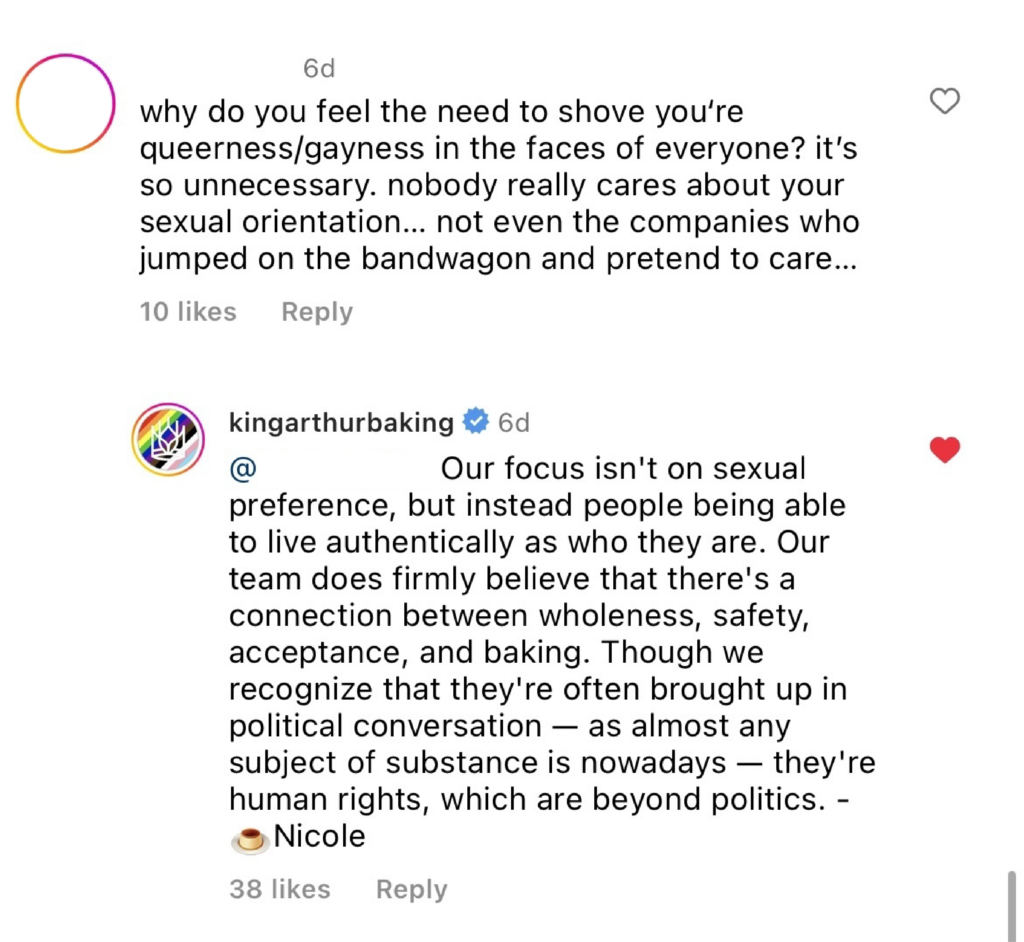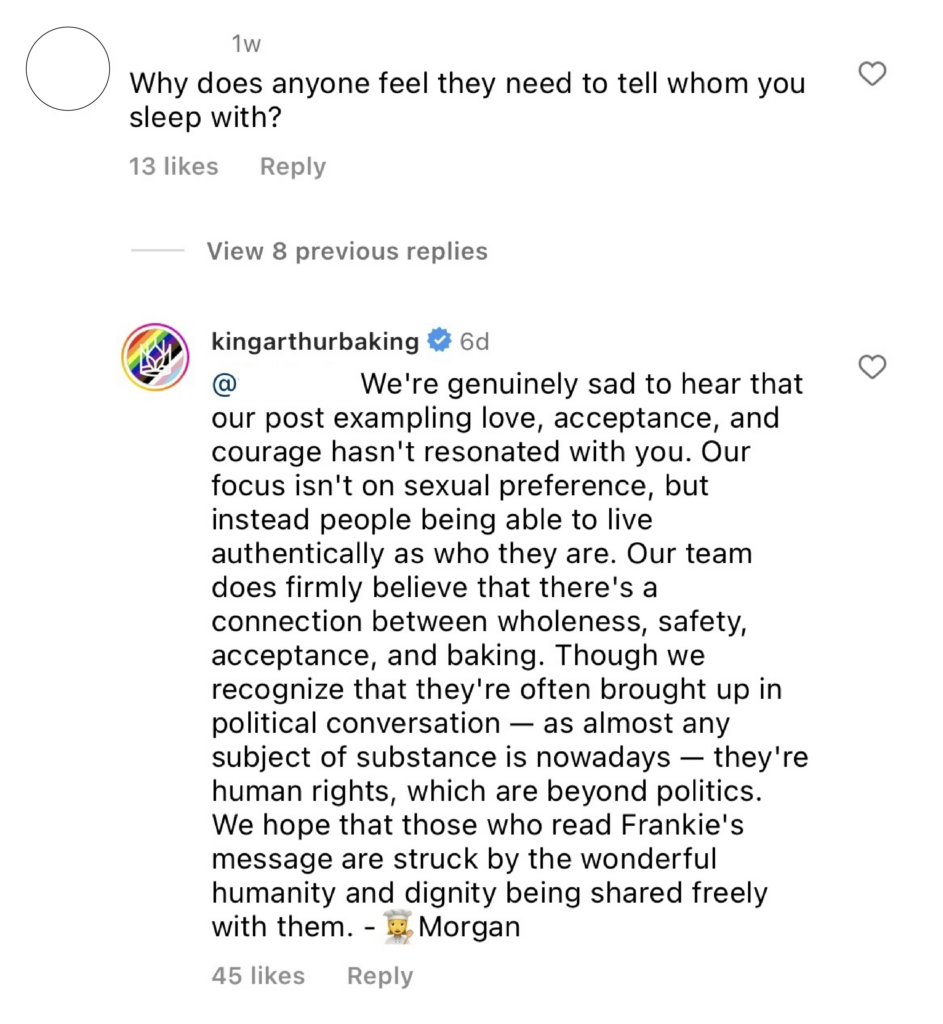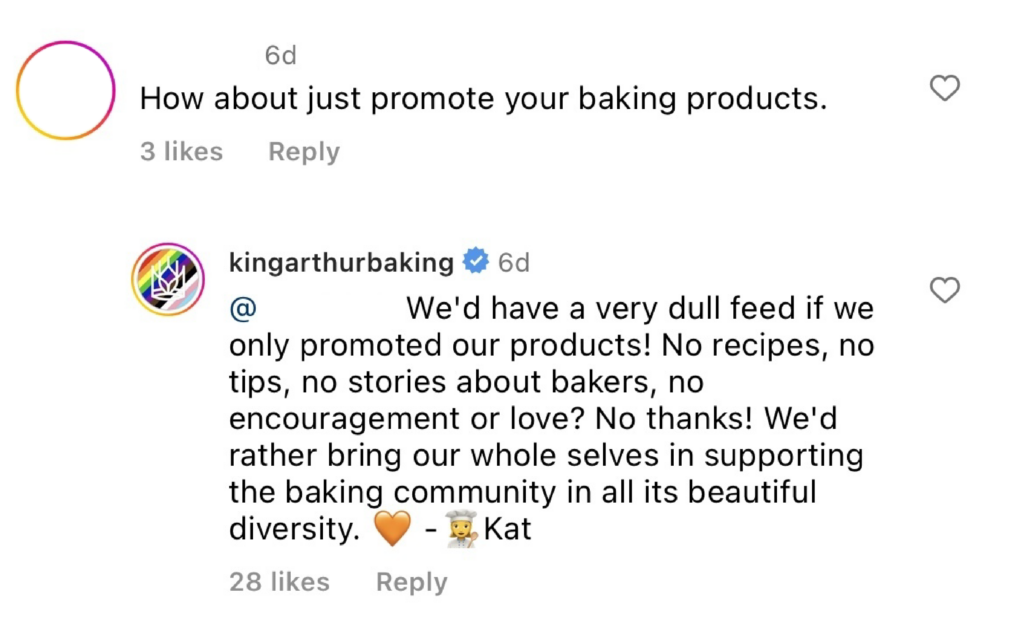 Not only does King Arthur Baking do an amazing job at leading with kindness, they perfectly demonstrate their brand values in their messaging. Yes, their brand focuses on baking, but it also routinely demonstrates inclusive values and a love for its community. You can feel their support by reading their responses. They never bow down to the ignorance they're being shown, instead, they combat it with kindness.
Representation Done Right: Three Emotional Ads That Resonate
With so many "bad" LGBTQ+ ads out there, we wanted to take a minute to highlight some of the ones that resonated most with us. So we present three fantastic Pride-month ads that center the LGBTQ+ experience through authentic storytelling.
Pantene, #HairHasNoGender
Less of a traditional ad and more of a short film, nevertheless this Pantene UK's #HairHasNoGender video works so well because it centers on LGBTQ+ people. The entire ad focuses on the lived experiences of these people, and what their hair means to them in terms of their identity, their comfort in living as themselves, and their confidence. It's a wonderful testament to living as your authentic self, featuring something that a lot of us have in common: we all have hair, and we all take care of it.
Starbucks, Every Name's a Story
This ad was on the shortlist for a different blog we were planning, 5 LGBTQ+ Ads That Made Us Cry. Every great ad tells a story, and Starbucks crafts a moving one that focuses on identity, and how isolating and demoralizing it can feel when we aren't recognized for who we are.
Skittles Ditches the Rainbow
In 2020, Skittles launched a unique series of ads for pride month. What's most notable is that the ad actually features no rainbows, swapping out the traditionally colorful Skittles for a grayscale design. Their tagline? "Only one rainbow matters during pride." To make their campaign even more impactful, Skittles partnered with the LGBTQ+ advocacy group GLAAD and donated $1 from every package of Skittles sold to the organization, up to $100,000.
To Sum Up: Be Authentic, Be Intentional, Don't Engage in Rainbow Washing
Brands wanting to signal their support for LGBTQ+ causes is a great thing. But, if you want your messages to resound with your intended audiences, some care is needed in how you do it to avoid rainbow washing. Be intentional with what you're saying, hire LGBTQ+ professionals to help you say it, and practice your advocacy throughout the year — not just in June.
It's also worth noting that posting about Pride month is not a requirement! Sure, some of your social media followers may notice that you didn't post for Pride. But that's a lot better than posting something lackluster and having a ton of people respond negatively online. Sometimes, saying nothing is better than saying something that isn't genuine.
Interested in learning more about inclusive marketing practices? We're here for you. Reach out today to start a conversation.