LinkedIn has basically become an interactive digital resume. Most applicants include their LinkedIn URL toward the top of their resumes in the contact section. In fact, some employers require applicants to include their LinkedIn URL with online applications. Since this professional social media platform can play a role in getting hired, you need to make sure your profile is optimized to its maximum potential, but how?
Make sure you profile photo is appropriate.
If possible, include a high-resolution image. Regardless of resolution, the picture needs to be professional. Your profile picture should be a headshot in business casual (or nicer) clothes. I've seen people use pictures from a night of drinking as their profile photo. Think about it: Would you hire someone who has a picture of themselves drunk on a professional networking site? No? I didn't think so.
Update all relevant fields on your profile. Make sure to include your entire employment history and update each job as you would on your resume. What was your title, what were your responsibilities, etc. Use strong verbs to describe your responsibilities. Don't sell yourself short; rather, highlight the importance of your tasks. You have to make a 1987 Toyota Camry station wagon sound like a 2020 Lamborghini.
Bad description: I cleaned the popcorn machine and swept the floor.
Good description: Maintained a safe, clean work environment that earned a 97 FSIS score.
You can drag past jobs and put them where you want them, so make sure the most relevant positions are at the top. Put yourself in the shoes of who you're sending your LinkedIn to. If you're applying for a marketing job, which do you think will be more effective: a past marketing internship or a current job working as a bank teller?
Ask for recommendations. It's great to have people recommend you, especially those who've managed you in the past. It's like a digital reference, and it's perfectly acceptable for you to ask someone to recommend you, if you have a good professional relationship with them. The more credible the person writing the review, the better it will look.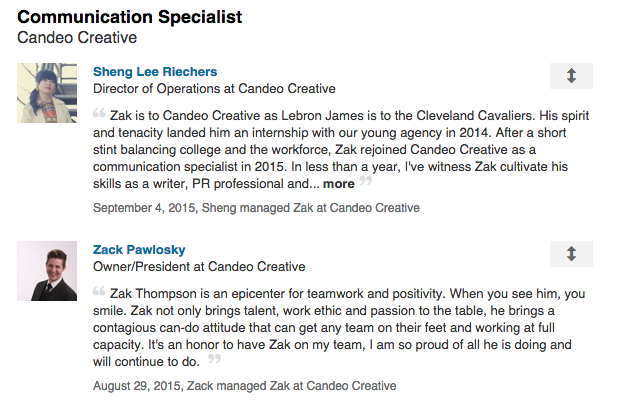 If you want people to give you credit, start by giving it where it's due. Get out and endorse your friends, classmates, and colleagues. Is Jane Doe good at social media marketing and branding? Help her out and let others know by endorsing those skills. This not only gives someone else credit for their skills, but encourages them to return the favor for you. They may not be the be-all-tell-all of gauging skill, but it definitely looks good.
Add any of your professional content to your LinkedIn page. If an employer asks for writing, video, or photo samples, you'll have a collection you can refer back to or direct them to.
Your LinkedIn is truly like a resume. You're able to include all your job descriptions, skills, certifications, and professional work samples online for a potential employer to view, so be as thorough as you would be in your resume. Triple check for spelling and grammar errors. You're putting yourself out there so there's no excuse for mistakes.
So get out there and optimize your LinkedIn. There's no reason not to have a well-written, thought-out, professional profile that you can create for FREE!