I've lived in a lot of places: Mississippi, Alabama, Georgia, Connecticut, New York, Washington DC, Virginia, Louisiana, California, Arkansas, Florida, South Korea, Thailand, Missouri, and most recently the Triangle Region, North Carolina.
In my experience, no place combines Southern charm, a Northern business pace, Western and Midwestern sensibilities, and touches of international fusion quite like Raleigh, Durham, Chapel  Hill, and the larger Research Triangle region. Loads of big-city excitement tempered by pockets of that small town, down-to-earth balance everyone is looking for.
This is a ridiculously attractive place for all walks of life and for businesses of all kinds. I set out to move here in the last year or so, and now, having only been here for about 2 months, I can confidently say it's been one of the best choices of my career and adult life. Here's why moving here makes sense.
The Triangle Region is Booming
Numbers change from source to source, but one thing is certain: this area is growing… and fast. The quality of living is outstanding and the job market driving quality of life is strong. Predominant work sectors include tech, healthcare, education, energy, and other cutting-edge, long-lasting industries.
Looking at Raleigh and Durham combined, these easy-to-reference stats from Real Estate US News explain why people are moving here in droves:

If you're like me and some of my colleagues who are escaping areas like Washington DC, Atlanta, London, or Los Angeles, the 24.3 minute commute time and median housing prices are looking pretty good.
Job Growth
Jobs are always available here, as evidenced by the low unemployment rate of  4.4%. Average annual salaries are high, especially compared with the national average, and the predominant industries are exciting and have long-term growth opportunities. All this makes relocating for work or setting up shop almost suspiciously easy. Here are some relevant stats: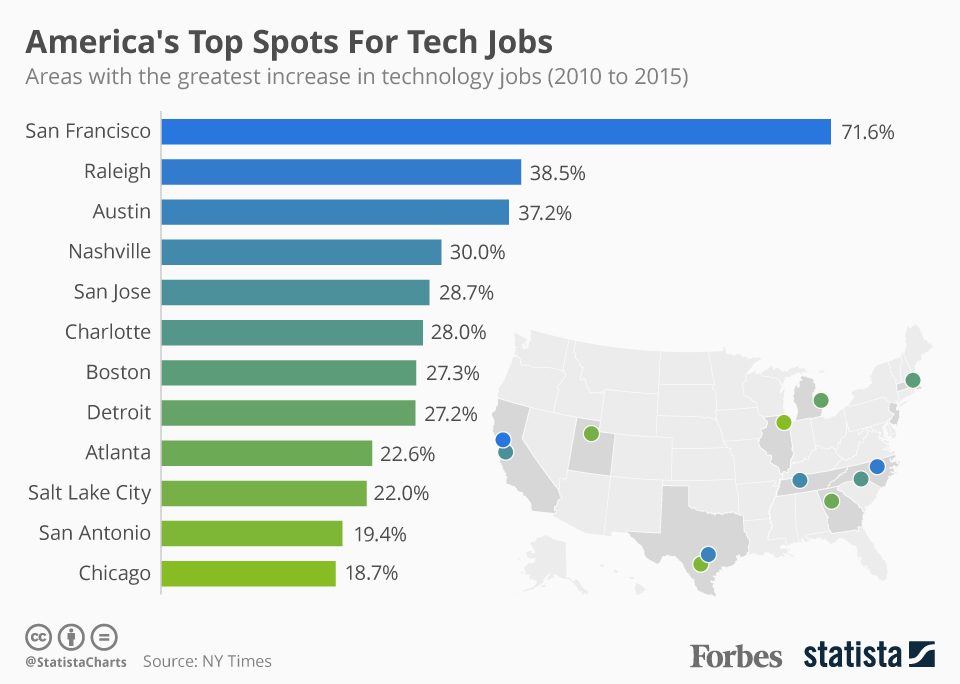 #1 in Top Ten Best Cities for Jobs (Money)
#2 Easiest City to Find a Job (Forbes)
#2 Best City for Tech Jobs (Forbes)
#3 Best City for Recent Grads (Forbes)
A Closer Look at Durham & Chapel Hill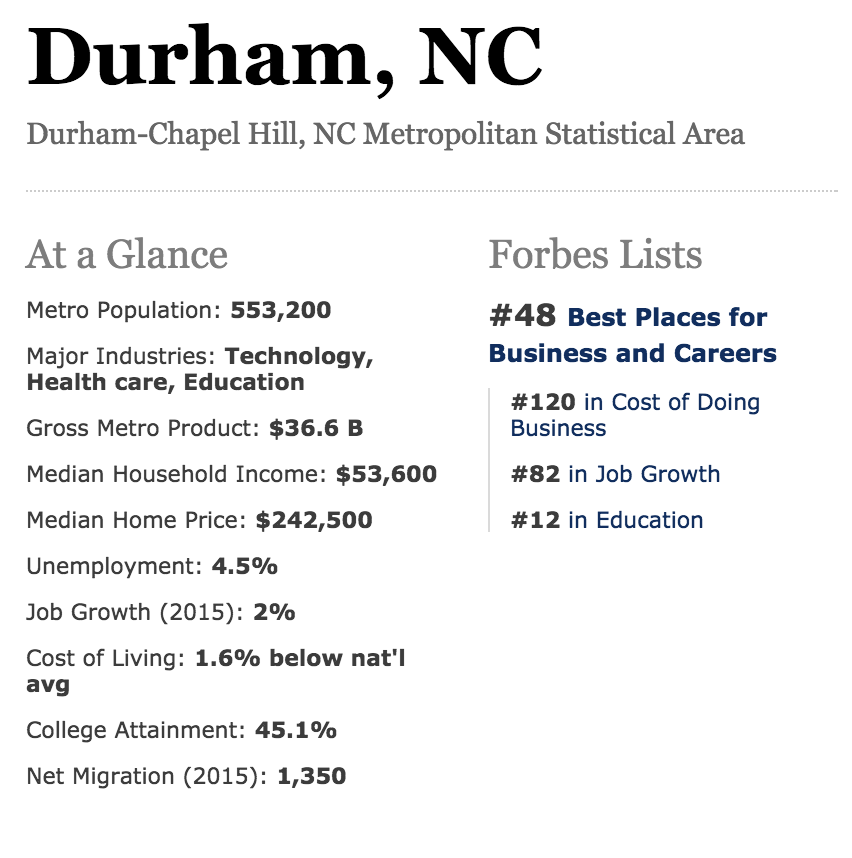 There are close historical ties to Durham and its tobacco, a huge part of why this city grew rapidly in its earlier days. Durham is the inspiration behind the iconic American baseball movie "Bull Durham," and is still a great place to bring your family or friends for a baseball game today.
Durham has slingshotted into the 21st century, thanks partly to Duke University and partly to the numerous enterprises in Research Triangle Park and Durham's vast medical network. It's not too small, not too large, and the average-priced homes and friendly atmosphere make it an attractive place to settle down.
Chapel Hill, (and the town of Carrboro inside it), are equally fantastic places to live and get a world-class education. Home to University of North Carolina at Chapel Hill, the town is steeped in tradition. From basketball to barbecue, it has all of the allure of big university life.
Make sure you check out these restaurants when you're in Durham:
And when you're heading to Chapel Hill, definitely make a stop at these:
Raleigh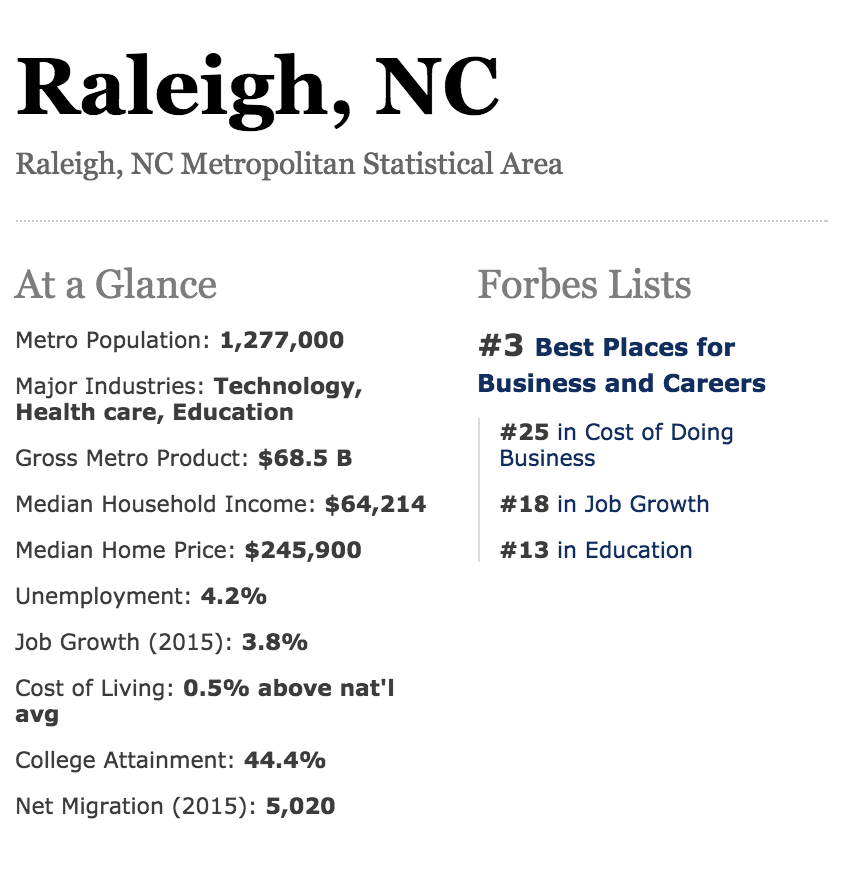 The birthplace and home of Walk West, Raleigh is a creative and business hotspot. Beyond the obvious accolades — like how Raleigh ranks number 1 overall on Biz Journal's list of the "top mid-sized American cities of the future" — one learns that each of Raleigh's neighborhoods has a distinctive character and serves as an international melting pot.
Despite a population significantly larger than that of Durham and Chapel Hill, it still maintains a relaxed southern demeanor. Raleigh is part of the Research Triangle, so it's in the circle of super smart people and folks who get stuff done — the people powering today and tomorrow's economy. The revitalized downtown is one of the reasons it is one of the fastest growing cities in the country.On top of being a great place to work, eat, drink, and play, it's also a great place to buy a home and settle down.
The high tech, biotech, and textiles industries are bustling here, and the creative scene is growing right alongside these enterprises. We like to think Walk West is a part of that forward momentum.
When you're in Raleigh, try these restaurants out:
Colleges/Universities
By now you know the region is not short on brainpower. Like Silicon Valley, we're stacked with top-notch universities, producing scholars and next-generation champions of creativity across various industries:
North Carolina State University

Duke University

University of North Carolina at Chapel Hill

And about a dozen others
Geography Ain't Hard to Sell
We've got beautiful mountains, lakes, rivers, and beaches. Statewide, the climate and natural environment give way to majestic fall colors, mild winter temps, and early springs. We're not going to lie, the summers are hot. But that's what makes outdoor festivals and local beer gardens so enticing. Chances are one of your favorites TV shows or movies were filmed on the NC coastline, and for obvious reasons: the beaches are gorgeous, and in some places still relatively untouched.  
Triangle Region Business Case
According to Researchtriangleregion.org, "Utilities, suppliers and professional service providers offer extensive knowledge about our core clusters and specialized products and services to support them." In other words, the area has what you need to run your business. A simple example: Google Fiber, an internet service in high demand, is offered here. You can't find that in every city.
This area has a talented, ambitious workforce. Look at Walk West. We're a blend of go-getter locals and transplants from all over the world, and we're growing like wildfire. The brain trust represented by the universities in the area and the superior standard of living here are drawing people in from everywhere.  
Almost every measure of cost for a business is lower than the national average. Across the state and in the Triangle region, we offer incentives that promote research, investment, and jobs. The Economic Development Partnership of North Carolina is the perfect place to get more info on this:
The message is clear: the Triangle Region is an amazing place to live, work, and play. I've only been here for two months, and I'm already enjoying the ride and love working with such a talented bunch of people and organizations.
Tweet at us if you ever need tips on the area.