In case you missed it, our team has been all over Blab the past few weeks. Blab is a live-streaming platform that enables a public video chat among four members at a time. If you are familiar with the likes of Periscope, Meerkat, and Google Hangouts, it basically combines the best of all three.
The main question marketers have been asking is, "How can Blab really help grow my business?" Our team is always looking for ways to stay ahead in the ever-changing digital marketing world. Live streaming has become a growing component in how companies engage with its audience on social media.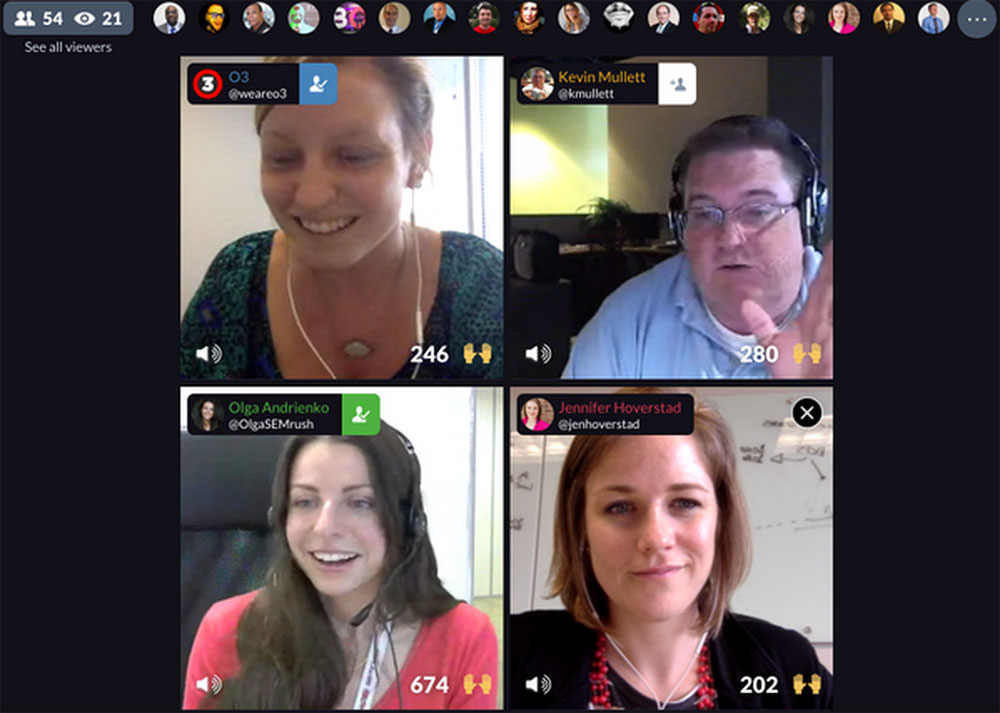 Blab provides a casual, transparent, and extremely interactive video chat environment for its users to network in. Our senior SEO manager, Casey Overcash, joined a Blab conversation with SEMrush's Olga Andrienko and discovered how useful Blab can be for branding. SEMrush is a competitive data tool that O3 uses to monitor SEO performance and analysis areas of growth for our clients. This Blab session allowed Casey the opportunity to personally interact with the social media manager of SEMrush while she dialed in from Russia.
Casey asked Olga questions about the innovative tool, including:
How does SEMrush battle with and stay in front of competitors?
How does the company innovate and push the SEO community forward?
How is SEMrush pushing to provide more social media tools?
How has the launch of mobile analytics, currently available to U.S. users only, gone?
Our team was also made aware of real-time Twitter Chat rooms SEMrush hosts every week for SEO professionals
The new social media analytics tool helps marketers review what competitors are posting on social, including comparative data. You can see your competitors' activities as far as postings and followers. Metrics, like which tweets were best performing, provide a platform that analyzes and defines where you stand in comparison. Learning about the growth of this new, competitive data tool wouldn't have happened without the introductions via Olga on Blab.
Not only does Blab help develop customer relationships with an international company like SEMrush, we were able to learn details about the company's growth. This global tool is connected to 27 Google databases and is most known for its defined competitor-related data in organic and paid search. SEMrush is seven years old, and since the CEO is not a public person, Olga has become the face on social media for the company over the past two years. She is perfect for the role, as her demeanor offers an enduring and overwhelmingly helpful presence in all the SEMrush Blab conversations.
Blab's most essential asset is helping marketers build a real community in their industry. Our team has been very impressed with SEMrush's ability to form this community on all social platforms which has been a result of dedicated Blab sessions with its clients. Our main takeaway from this was consistent engagement positively affects community conversations and effectively answers consumer questions.
"If we have a connection they will stay with us longer. It's amazing to talk to the clients, this is a priceless moment." – Olga Andrienko
Blab provides an incredible resource for professionals to gain knowledge from other industry influencers and learn how other marketers are using SEMrush. Others sitting in the Blab session asked about features SEMrush could supply that would make the tool better. What a real-time way to get customer feedback!
Those utilizing Blab for brand engagement are seeing "real-time" proof that live streaming feedback offers value to building relationships with customers. Because of these Blab conversations with SEMrush, Casey will be able to apply the new tools introduced by Olga with our clients. The SEMrush team also invited Casey to join the data analysis team to help grow their tools for the SEO professional. None of this would have been possible without Blab!