Recently, I ventured west to attend the second annual Periscope Community Summit in San Francisco.
When I told people I would be at –  what came to be known as – #SummitLive, the following conversation typically ensued:
"You're going where?"
"What's Periscope?"
"Why does O3 care about live streaming so much?"
Periscope is a Twitter-owned mobile application that allows users to live stream in any location (with data or Wi-Fi service). If you haven't heard of it, that's ok – it's a new(ish) technology that came onto the scene in late March 2015. In August, it surpassed 10 million users, and the trend continues in a staggering vertical.
Admittedly, this event was for those ahead of the bell curve. Literally.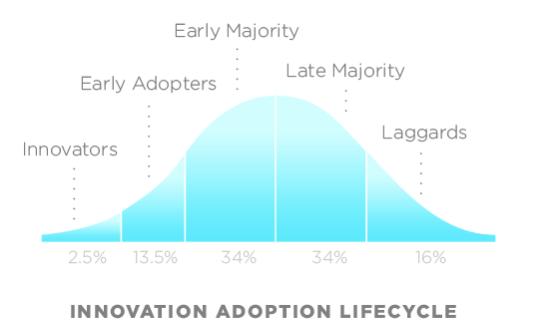 Most speakers suggested that we are still in the "Innovator" phase, but quickly moving into "Early Adopters" by the end of 2016.
This will be the year of live streaming – ready or not, here it comes!
So the question becomes, do you want to be a leader or a follower?
As marketers, we now get to bring our thoughts, products, and events to a real-time audience. We have the capability to see, in real-time, an audience's reaction to our information and answer their questions. We have the tools to interact with people across the globe in a way that has never happened before.
But, marketers, this doesn't happen unless you try the technology. Like social media, live streaming audiences rarely populate overnight.
O3 continues to push the envelope on discovering how live streaming will fit into a client's portfolio of marketing tools.
You've probably seen us on Periscope, using the #O3Live hashtag.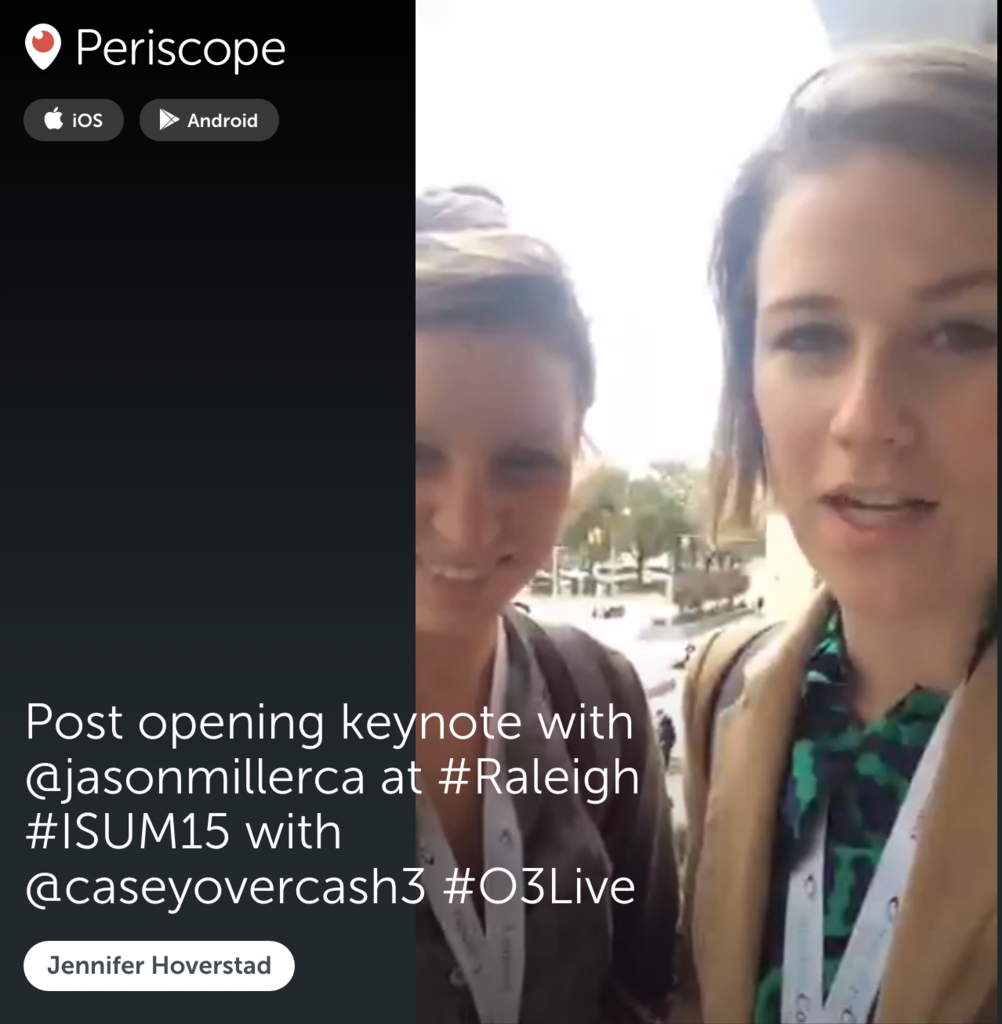 Using the same hashtag, we host a weekly Blab (think live podcast) that features guests from around the world who come to talk about work culture in their respective industries.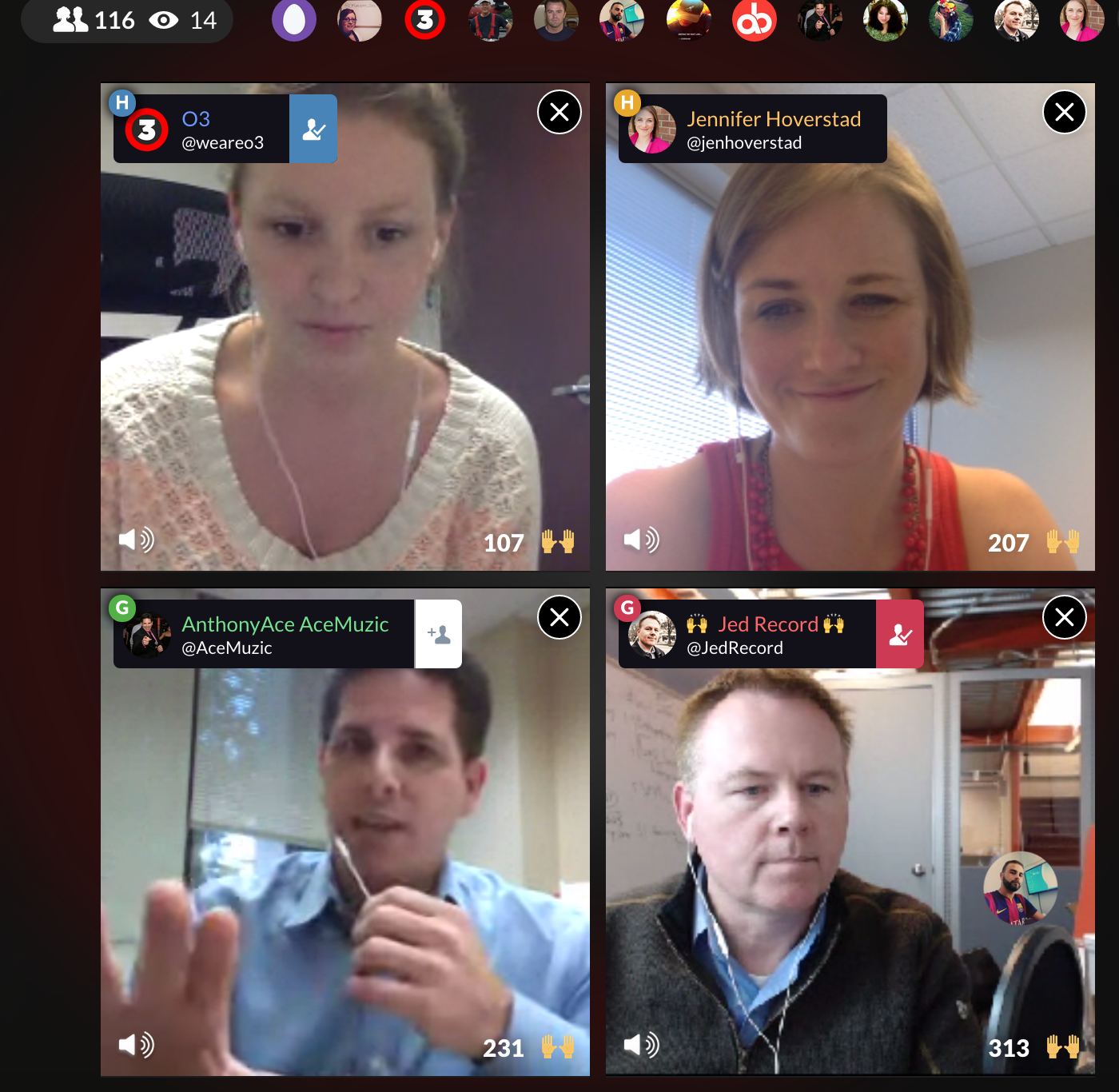 Between Blab and Periscope, we're still figuring out how to use the tools – and we've been established on them since the fall.
New tools will continue to emerge in the race to be the best live streaming application.
While in San Francisco, I realized I hadn't given Facebook Live a try. What better place to try a new live streaming tool than a conference where you're focusing on live streaming?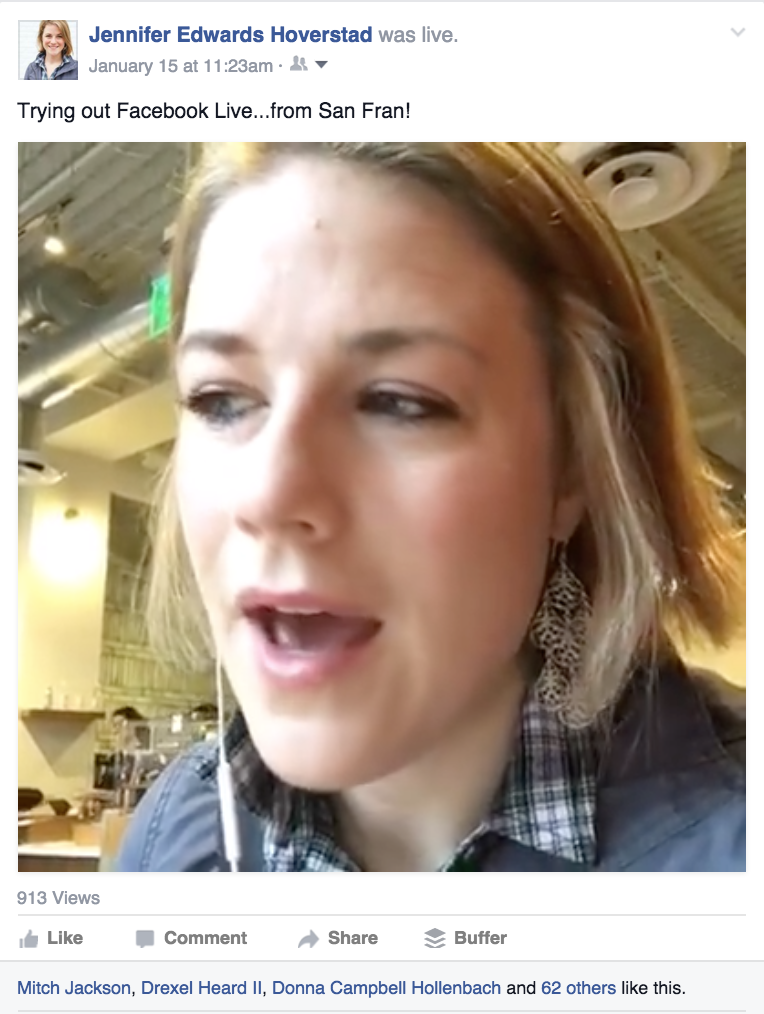 My rule of thumb for my three Facebook Live streams? If I was somewhere I would have shared a picture, and I had a few minutes to spare, I streamed it. I answered questions. I interacted. I provided more information than any picture could have provided.
So, what are my top takeaways in a world that lacks rigid rules and guidelines?
Just press record/start broadcast. You can't begin the process of understanding the tools unless you're actually using them. You'll feel silly at first. Maybe you'll just stare at the camera. Regardless, you have to press record to see how it works.
Use the tools that will best engage your audience. So far, I've found Facebook Live to provide the best engagement, BUT it's because I'm interacting with this audience on a daily basis. On the other hand, I'm trying to grow my Twitter audience, so it's becoming more important that I utilize a purposeful Periscope strategy.
Take advice with a grain of salt. While there's plenty of recommended "best practices" for live streaming, the reality is that we're all learning and paving a path together. Find out what works best for you and run with it!