The founder of Walk West, Brian Onorio, spotted a need for better proposals while leading the agency. This is his story on how Proposa changed the game.
We recently announced the launch of Proposa, a software as a service (SaaS) application that helps business development professionals build stunningly beautiful proposals in half the time with actionable insights to help these professionals sell better. With real-time open notifications and behavioral analysis in how prospects consume proposal information, Proposa enables sales teams to sell better, sell faster, and sell smarter. It's an innovative solution and one that was literally years in the making, even unknowingly.
Innovation doesn't occur like a light bulb switching on in a cartoon. It's methodical and it often happens while you're unaware that it's even happening. We're all inventors of some sort looking for solutions to solve the most mundane of daily tasks. And we all do it, to some extent, in our daily lives as a means to an end. Innovation is simply a better means to an end.
"Every once in a while, a new technology, an old problem, and a big idea turn into an innovation." — Dean Kamen, inventor of the Segway
The hardest part of building an innovative solution is actually spotting the opportunity for that solution. Our lives are so fast-paced that it's difficult to slow down, take inventory, and realize when you have "it". Especially when you're not necessarily looking for "it".
It's here where Proposa's journey begins.
Doing Things Differently
Over the summer of 2014, I was the CEO of a small, lean digital agency mainly focused on website design and development. Like other companies, both large and small, we had a decent looking formatted proposal template built on Powerpoint that we would use to construct sales decks. But we found that our deck wasn't so spectacular that it simply blended in with the other two or three competitors that we were going up against.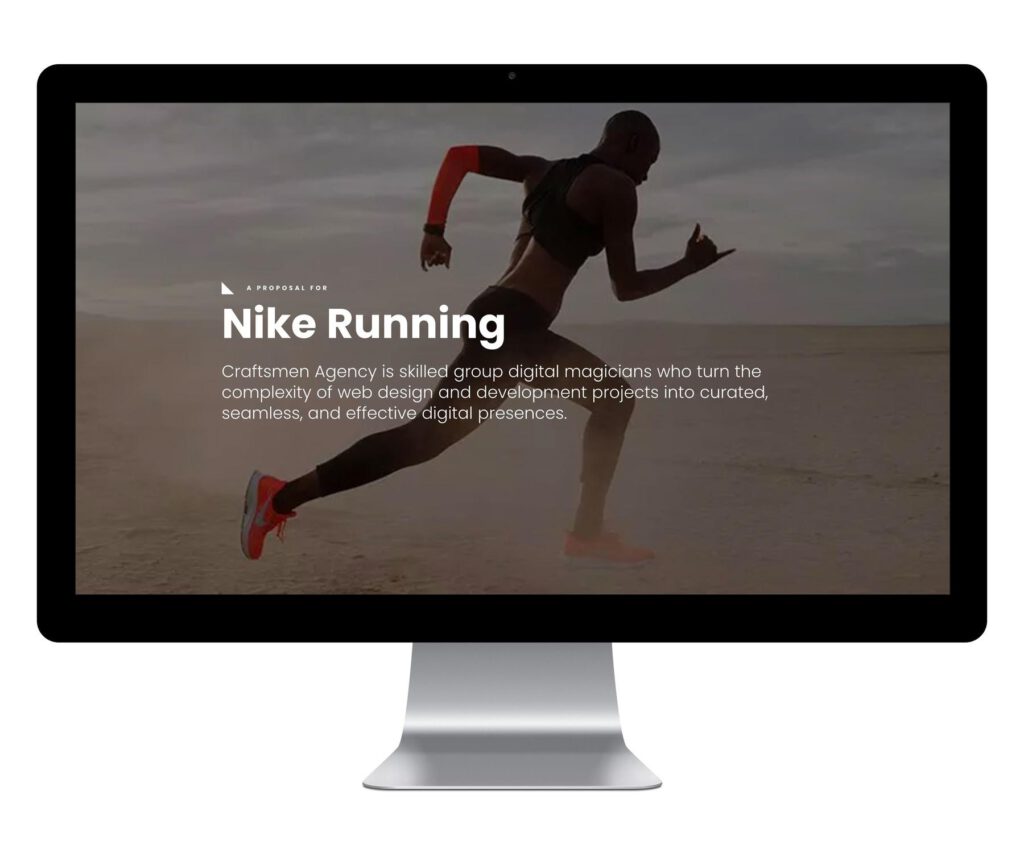 Proposals built by Proposa are remarkably different from the standard sales decks that have been used, and reused, for years.
We were selling websites so the epiphany came to me that we should be putting our proposals on websites as a last point of validation right at the point of sale that we were capable of doing what we said we could do. So I assembled a small team over a weekend and built a very rudimentary prototype that we dubbed The Proposal Engine. It was built on WordPress and we spent literally no time working on backend user friendliness and all of our time on a spotless, polished frontend that our prospects would see. We took the language from our Powerpoint decks and popped it into our prototype and it spit out what was truly a remarkable (and unique proposal). Instead of sending in those Powerpoints converted to PDF over an email attachment, we started sending links that were beautiful on desktops, tablets, smartphones, and any other mobile device.
The result was almost immediate. We had been trying to convince an enterprise technology firm to do business with us. We sent them a proposal and they bought on the spot. To that point in time, it was the highest project value that we had ever sold. And we won against other agencies that we had tried, in vain, to win against before.
But this was a use-case of one. And now we found ourselves really busy with the largest contract we had ever had and no time to dedicate to making The Proposal Engine better.
That trend continued throughout the rest of 2014 and our win rate shot up to over 70%. Yes, 7 out of every 10 proposals we sent we were winning, a phenomenon we hadn't ever experienced before. We were good at what we did but perhaps we were also cheap. Who doesn't want cheap and good? So we raised our prices. And we still kept winning.
A Profound Year of Growth
2015 was a breakout year for us. We tripled revenue year-over-year and started a growth trend that has yet to calm down. With additional hands-on staff, we decided to make some small improvements to The Proposal Engine. One of the key improvements was automatic expirations and open notifications. These became powerful data points that helped us act with pinpoint accuracy.
Any B2B services company has had this happen to them before: you get an email from a prospect that went cold a year and a half ago with your sales deck attached to that email. The prospect all of a sudden wants to talk. But the information is old and things have changed over the course of that time.
When you email an attachment, it's gone. It can be distributed at will and you have no control over it. Since we fundamentally changed how we were sending proposals, via a link instead of an attachment, we had full control over the visibility of that document and could proactively protect our pricing from future events. We built a setting to automatically expire all proposals after 30-days. We still got the emails from prospects that went cold, but now it was a request to reactivate the proposal. In that event, we could update it first and then send over a new copy.
Open notifications changed the game for us because now we got instant visibility for when we were top of mind. This scenario played itself out routinely:
—
Notification received: Your prospect is looking at your proposal.
I would wait 5 minutes and pick up the phone.
Me: "Bob, great to talk to you. I was curious to see if you have had a chance to take a look at the proposal I sent over yesterday."
Bob: "As a matter of a fact, I'm looking at your proposal right now."
Me: "What a coincidence! Is now a good time to talk about it?"
Bob: "Let's do it."
—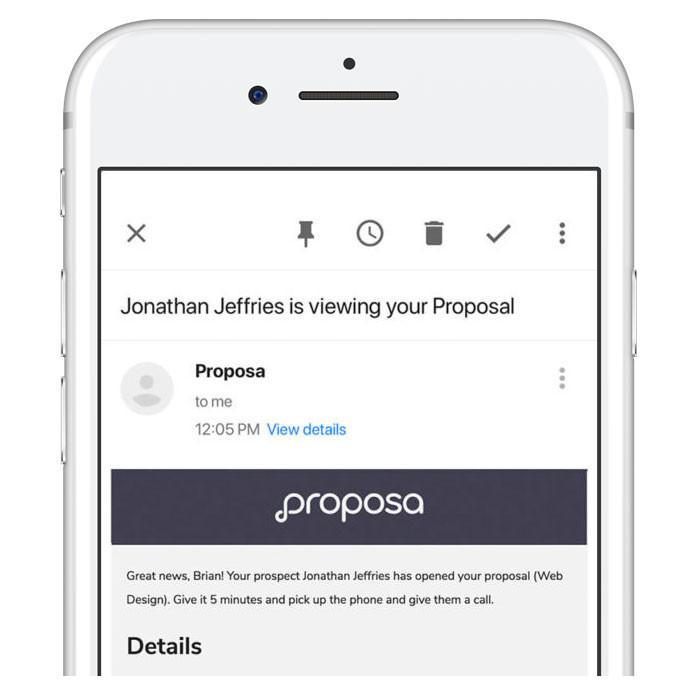 Proposa's real-time open notifications allow users to know when they're top of mind.
It may seem a little bit invasive, but the open notifications helped me understand when I wasn't bothering a prospect and when that prospect was likely ready to dive in. I didn't have to reschedule or call 15 times to find the right time to talk — I knew when it was the right time to talk. This was good for us but also very good for our prospects.
The Steady Knock of Opportunity
As we grew tremendously between 2015 and 2017, we would receive routine inquiries from our prospects-turned-clients. "We loved your proposal that you sent us 6-months ago. What software did you use to do it?" I would explain that it was a rudimentary piece of software that we had built in-house. The next question was inevitable: "can we use it too?"
We were so inundated with new business that we at first didn't entertain the idea for a second. But it became a resounding theme and a louder knock. It wasn't just one client, or two, or three. It was a lot. We decided to pilot the application with two close clients more to get them to stop asking than it was to undergo customer discovery for bringing the product to market.
Then, around the Spring of 2017, we heard the knock for the last time. The volume of the requests seemed a lot more like customer demand. And we decided to do something about it.
I met with a few of my business partners and we discussed a strategy to invest some resources and get this application built. It wasn't requests that we were receiving any more. We undertook market research, called a ton of customers to get their input, raised a small seed round, invested in some in-house resources, and began building Proposa from the ground up starting that summer. We entered a private beta phase in the first quarter of 2018 and launched publicly in the second quarter.
Spotting Innovative Opportunities
We didn't do anything special with The Proposal Engine. We simply solved a business need that we had. It was built for a singular purpose, not as a prototype for market adoption. But that business need was met with resounding success. Without knowing it, we were doing customer discovery for a full 3 years before entertaining the idea of building Proposa. We had a tried-and-true prototype that would serve us well in knowing where to dedicate time and resources for the features that were most valuable.
We all do things a little differently than our peers, friends, or family. We do innovative things on a daily basis to solve problems. For us, it was getting rid of Powerpoint decks, which the world has been using to author proposals for two-and-a-half decades. Innovation can be big or it can be small, but it's innovative nonetheless.
How do you know when an innovation is ripe to become a business? It's actually quite simple: those around you will demand it.