February 25, 2016 – Walk West (formerly Greenroom Communications) is thrilled to announce three new additions to the office from the 2016 American Advertising Awards.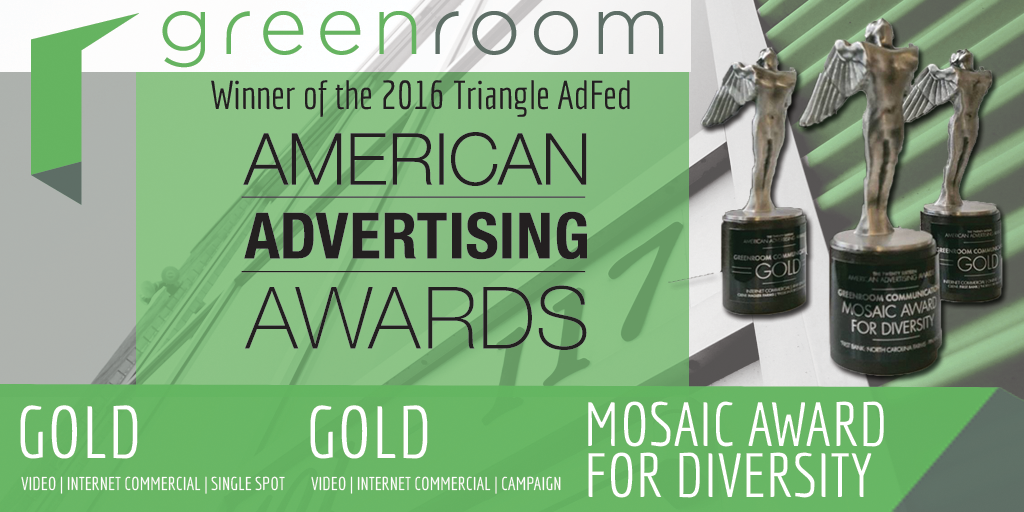 The American Advertising Awards, presented by the Triangle Advertising Federation, is the region's primary competition for design and advertising. For our industry, it's like the Oscars. Judges evaluate entries on all creative dimensions, as well as for memorability and cleverness. The highest level of creative excellence awarded is the Gold ADDY, and Walk West (formerly Greenroom) received two for our work with First Bank, a progressive community bank that serves customers in the Carolinas and Virginia.
About the Client
First Bank first opened in 1935 in Troy, NC to meet the needs of a small town that lost its bank at the beginning of the Great Depression. It continued helping farmers and local businesses make "every penny count" throughout the '40s, '50s and '60s. The videos below showcase different narratives of today's farmers, representing how First Bank is still committed to its original service 80 years later.
Mosaic Award for Diversity
Walk West, (formerly Greenroom), also won a Mosaic Award for Diversity, a special category that features creative diversity within the project. Of more than 300 entries, Triangle AdFed chose two winners. Our video, First Bank: North Carolina Farms- Pine Knot, tells the story of an organic farm founded over a hundred years ago that remains in the Hughes family to this day.
Mosaic Award for Diversity
Client: First Bank|North Carolina Farms – Pine Knot
Gold Addy
Internet Commercial|Online Campaign
Client: First Bank|North Carolina Farms
Gold Addy
Internet Commercial|Any Length
Client: First Bank|Hagler Farms – Passion for Cotton Farming
Walk West, (formerly Greenroom) is excited for the 2017 Awards and to expand the trophy table while working diligently to capture the human side of business through video and digital marketing.