The Walk West Digital Influencer Series highlights digital strategists, writers, and personalities who are affecting the behavior of their audiences.
On a 90+ degree day, in the middle of the afternoon, Fullsteam Brewery was lively with worker bees, taproom regulars, and local families funneling in and out of the tavern. That particular afternoon, the space hosted a local produce delivery service, as well as a popular food truck.
In the midst of the movement, I sat down with Fullsteam founder Sean Lilly Wilson to discuss his thoughts on digital space and how he incorporates it into the business.
He prefers to call it "beautiful stupid."
"The best things in life are beautiful and stupid. It's stupid hot right now, but there are beautiful things happening [in and around the brewery]," Sean explained.
In 2003, seven years before opening Fullsteam, Sean successfully led the Pop the Cap campaign that resulted in the passing of legislation to allow North Carolinians to buy (and brew) higher gravity beer.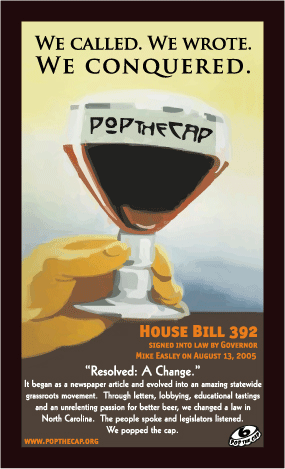 Back then, Sean recalled, all you needed was an email and a newsletter. People would read the newsletter and follow instructions to call their legislators.
"We would try to light up the phones. We didn't have the advantage of Twitter or Facebook or Instagram. We had to be methodical with the call to action," he said.
Now, Sean recognizes that marketing occurs in real time. Fullsteam uses multiple social media platforms to connect with its customers.
"A lot of people talk at their customers, we talk with them," Sean distinguished.
While Sean has served as the primary social media writer, he's slowly entrusting his team with content tasks. To ensure the same voice is used by all writers, Sean distributes a style guide.
Did you know we are at @DurhamFarmerMkt every Sat until noon? Come grab your local produce, local meats, and local beer in one fell swoop!

— Fullsteam Brewery (@fullsteam) July 25, 2015
"We're more than just beer, we tell a story," Sean explained. He described his desire for gritty content that's cautious and loose. He wants concise writing with information that's broken down, so it's easy to digest.
Fullsteam started telling its story through pop-up opportunities two (or so) years before the brewery opened.
The result of the purposeful communication? "People have seen us and known of us longer than before we were open," he said.
Sean's ability to recognize opportunities to keep his business moving forward stands out among the sea of craft beer competitors. As the industry gains new players, Sean admits that Fullsteam has to stay relevant and knowledgable. "We have to know who we are and what we're about, and make sure our interactions have a reason," he said.
In addition to its website, Fullsteam has an active presence on Twitter, Facebook, and Instagram.
Since starting the brewery, Sean has been most surprised by Facebook ads. "You wish you could reach 35,000 without paying for it, but you have to make exceptions," he explained.
Sean's team uses Sprout Social as a guide for what works and what doesn't work in social media. "We're constantly refining what we do and understanding why we do it," he said.
As the craft beer industry continues to grow, Sean recognizes that differentiation is the key to Fullsteam's success.
"We're not aiming to blow up, but aiming to push the needle. Our beers typically take time for people to understand where we are coming from," Sean said. "You can screw it up. If you go too fast, you lose control of the story. Social media helps – we can explain who we are in social media."
---
Visit the Fullsteam website to learn more.
Jennifer Hoverstad is the operations and project manager at O3. She writes the Digital Influencer Series to inspire growth in personal and professional marketing. Want to recommend an influencer? Contact us.