I was watching the news on the night of April 21st when a clip of Donald Trump came on screen. He was speaking at a podium with his logo placard placed right beneath the microphone. On it, it said TEXT TRUMP TO 88022. As a political junkie, I followed the primary season and back in April, there was an ever-present #NeverTrump movement and what seemed to be an unshakable Bernie Sanders movement against Hillary Clinton.
However, by late April, the writing was on the wall with both major political parties. So I texted TRUMP to 88022 and shortly after, signed up for Hillary's SMS alerts. I followed that up by signing up for both of their email lists as well. My goal wasn't to receive countless communications between both campaigns, but I was very curious to see how they were waging their digital campaign.
Almost immediately, I got confirmation emails and texts confirming my subscriptions. Trump asked me for a zip code, which I complied. Seems to be pretty basic to segment your lists according to geography, especially on a national campaign. Interestingly, Hillary never asked for my zip code but she did ask for a friend's number. I didn't go that far.
That confirmation text from the Trump campaign was one of three text messages I would receive from the Donald over the next two months … more on that in a bit.
Tuesday, April 26th was big for both candidates. Donald just about sealed the deal while Hillary took the lion's share of the delegates in three states leaving very little mathematical possibility for a Bernie Sanders upset.
I got two text messages from Hillary on the morning after she all but became the presumptive Democratic nominee. She won Pennsylvania, Delaware, and Maryland and sent a text message with a quote from Donald about playing the "woman card" and asked for $1.
Strangely, the night of April 26th was also big for Trump. He swept five states and became the presumptive nominee. I didn't get a text message or an email. In fact, I never got a single email from the Trump campaign over the course of the experiment.
In all, I received 35 emails from the Hillary campaign, a few from James Carville, and a few from Chelsea. All of them were well written and included some poignant humor or gimmick. I got several offers for a "woman card." But the campaign kept close records on me.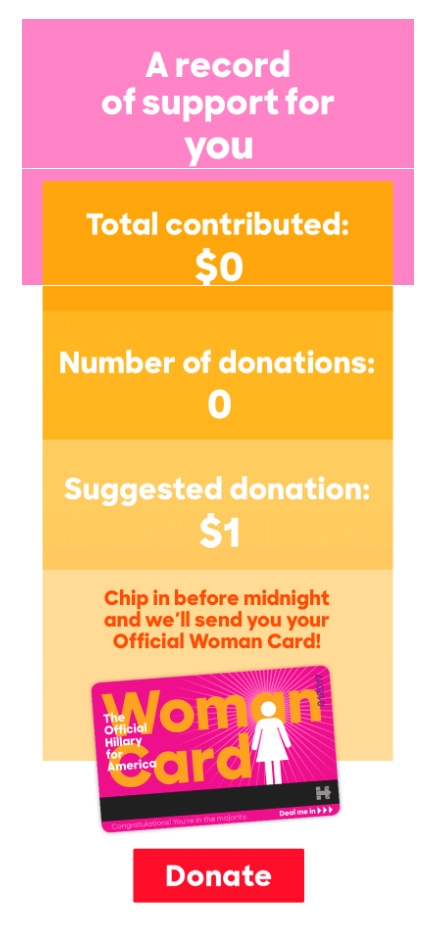 They knew how much I had donated and offered a suggestion based on my $0 in contributions. This play is personal and smart. Even though it's completely automated, it gives the feel of personalization.
Trump never asked for money. Which is fine and good since he was funding a good portion of his primary campaign. But as he shifts into the general election, Hillary has a clear edge on him with the amount of data and engagement that she was able to draw from her primary battle. Donald is essentially starting at zero in June which may not bode well for the nominee. The polls give Hillary a distinct edge nationally while she has an enormous financial edge. Trump has a paltry $1.3m cash in his campaign coffers while Hillary raised $28m in May alone. In fact, Ben Carson, long out of the Republican race, has more cash on hand than Donald Trump does.
To show the sophistication of Hillary's campaign, I received a phone call from a campaign worker on June 22 asking me if I would be attending her campaign rally in Raleigh that day. Recall from above that I never supplied a zip code or an address, never donated, but the campaign was able to match my number to a location and was staffed to get the message out that Clinton was in town.
A TALE OF TWO CAMPAIGN STYLES
Donald Trump is everything that is unconventional. His style. His language. His tone. And this translates directly to how he's running his campaign.
As he continues his unconventional and somewhat meteoric rise, the earned media has followed. Trump's campaign has been largely successful due to the enormous advantage in earned media he enjoys over his opponents. In fact, Trump received more earned media than all the other candidates over the past 12 months … combined.
Is earned media enough to win a general election? That's the question the Trump campaign is trying to answer. And right now, it seems the answer is no.
On June 20th, Trump parted ways with campaign manager Corey Lewandowski. Apparently, the Trump offspring urged their father to make the move as shifting to a general election presents significant challenges that the primary campaign did little to help prepare for.
Not three days after Lewandowski was shown the door … my third text message popped up on my phone from Trump. To recap, I got a confirmation message, a message after he won the Indiana primary, and then a hard hitting message addressing "Crooked Hillary" with its own landing page to boot.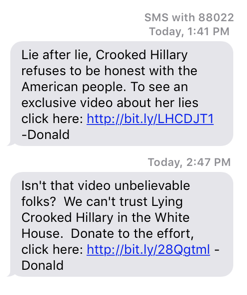 I won't provide commentary around the message itself, but it shows a clear redirection for the campaign days after a substantial shakeup. And just like that – digital and paid media started to matter to Donald Trump.
Hillary Clinton is absolutely trouncing Trump in the paid media game – and that's not shocking. But the amounts by which she's winning the conventional game is shocking.
Just last month, Trump spent $207,868 … on hats. Compare that to the relatively paltry $120,174 he spent over the same period on advertising.
It may be too little too late, but the campaign season is long and Donald's pockets are deep. Unlike other candidates, he could even the financial playing field with the stroke of a pen. Will he? And will it matter? It all depends on the competency of the new team he surrounds himself with. Hillary is a political veteran and is wisely using all the necessary tools to win. The clear signal his campaign is sending today is much different than the ones of just a month ago: he's not going to be able to ride earned media into the White House. Depending on how well orchestrated that shift is, it could be a close race in November or a race over by September.