No time to read? Here's an article snapshot:
Packaging design is so powerful, it can get a consumer to pick up your product knowing nothing about it. It can even convince consumers to switch brands — but only when done correctly.

Rising inflation means consumers are being pickier than ever about new brands. Not only do you have to draw them in with a good design, you have to win them over with a great brand experience.

Connect your brand design with your messaging to tell a story that resonates with your consumers.
Brand Packaging: A Closer Look at the Power of Design
From the moment we wake up, our daily lives revolve around brand choices. In the first thirty minutes of the day, we might interact with up to a dozen different brands (and we all have our comfort picks). Every moment is a potential touchpoint: an opportunity for brands to connect with their consumers.
And, with inflation at an all-time high and spending at an all-time low, new brands and legacy brands alike are fighting a tough battle to replace those comfort picks on our tables and shelves.
The way to get ahead of the fight? The right packaging and brand design can actually persuade consumers to try your product and adopt it into their daily lives.
Packaging design is often the first thing prospective customers see regarding your brand. Online or at the store, a good design attracts people to your products and can even persuade them to change brands.
Right now, that initial touchpoint is paramount to making a good impression on consumers.
81% of consumers bought a new product based on the packaging.1

63% of consumers bought it again due to the appearance and aesthetics of the packaging.1

52% of consumers switched brands because of packaging.1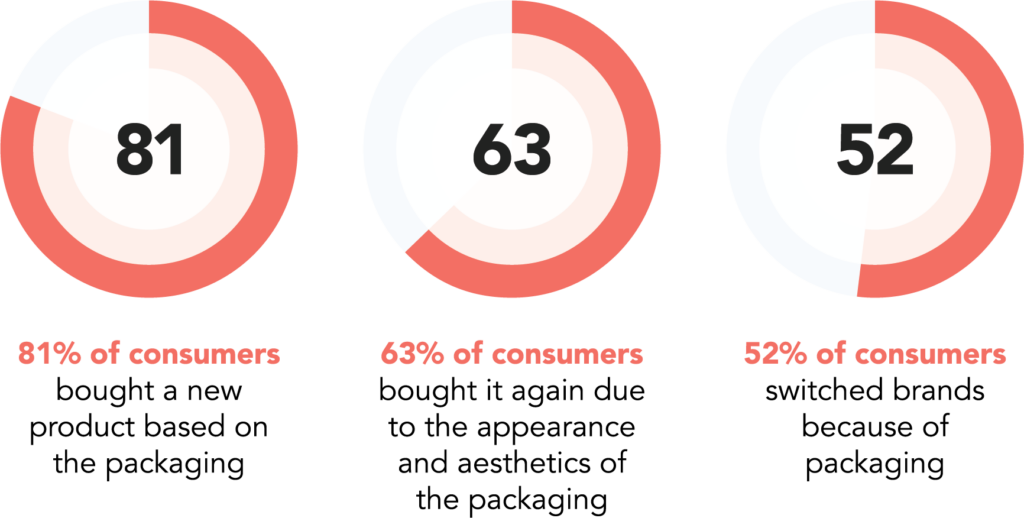 The right design bridges different opportunities for your brand — it can attract customers who didn't even know they were looking for something new.
Your Brand Needs Good Design
For example, let's look at beer packaging. Going to the beer aisle at any grocery store will present you with a near endless amount of choices. The average consumer only takes about three to five seconds to decide on one. Plus, brands have a bigger challenge than ever: grocery stores are stocking 30% fewer products on their shelves.
Rising inflation means that the average consumer's dollar only goes so far, and they're being more particular about what they're buying. A good label can get them to pick up your product, but you have to also deliver a worthwhile experience that will keep your products worthy of regularly fitting into their budget.
That's the power of design. With just one glance, you communicate not only the values of your brand but the experiences you have to offer your customers.
What Good Design Really Means
A brand needs a powerful visual message to distinguish it from its competitors. It also needs to be accessible and inclusive; by following ADA guidelines for advertising and designs, brands can reach more consumers in need of their products or services.
Inclusive design helps brands empathize with their consumers while reducing communication barriers. It can make your message more impactful, and help consumers connect with your product.
What it Looks Like for Craft Beer
Good design stands out on a beer label. In the craft beer industry, there are multiple new products launching monthly in a constantly evolving market.
Craft brewers and brands can stay ahead by creating a unified approach, a solid design framework that elevates the brand and makes it recognizable to its long-standing fans — while still attracting new ones.
Once a framework is built, you can have more freedom with your canvas (aka the can or bottle) and create artwork that tells a story.
And a label is only the beginning. These principles should be applied to every element of your branding and marketing to get people to consider your brand before they go shopping.


Design Principles You Can Take Home
No matter your industry, you can use these design principles to help your brand stand out visually in a crowded marketplace:
Establish your brand in the product packaging with logos, color, and branding.

Be clear about the product — is it decaf? Should it be served hot or cold? Make it obvious.

Develop a suite of colors and designs to use in your packaging and then use them.

Tell a story with your label that consumers can relate to.
Make Your Brand Designs More Powerful
Sometimes, a pretty label is enough to make someone buy your product. But if you want them to keep buying your product, and become a loyal brand enthusiast, you have to deliver a full experience that speaks to your customers and your brand values.
At Walk West, we take a brand-first approach to our work. We start with a Brand Heart that elevates and highlights the brand and helps condense it into a guide that can be used to create new content, designs, and marketing that effectively reaches your consumers while communicating your brand values.
Whether we're designing packaging, websites, collateral, or marketing campaigns, the brand's design and heart are always at the center. We don't just create one design and send you on your way — by working holistically we can help you create a brand experience that will draw consumers in and keep them coming back.