Every restaurant has a personality, a certain vibe to it, kind of like a style. This is especially true with bbq restaurants. For some of my favorite bbq, I've given them nicknames to fit their personas, just like how we investigate the identities of marketing personas.
So, here's an introduction to the ones I call old time vintage, classic, sarcastic with a smirk, high class with a "French" style vogue walk, and corporate and commonplace. Take a look at my Top 5 barbecue spots in the triangle.
"Vintage" Ole Time Barbecue – Raleigh

My favorite bbq in Raleigh comes from Ole Time Barbecue Restaurant & Catering, over on Hillsborough Street, on the edge of Raleigh and Cary. It's an adorable, cheap, dive that has both good service and incredible flavor. Established in 1993, it has an allure about it, with that gravel drive and tiny trailer filled with an aroma of Southern satisfaction.
With a tagline, "A Great Place to Get Porked!," on a banner, they better own that in every capacity. Tons of fun old timey pigs and decor adorn the walls, shelves, and ledges of the dining area. There are also really old, antique style decor items like an old picture frame with a man and his mules next to our table. Seating options are slim so be patient and get there early to avoid a rush. The small dining room has some old cafeteria-style booths and some booths at the bar (sorry, no alcohol served – I asked). The same waitress is always there, with a smirk on her face, good service, and nice Southern terms of endearment like, "Here ya go darlin."
During my latest visit, I indulged in the Large chopped BBQ plate and opted for the baked beans and green beans on the side. Of course, like a good Southerner, I had some sweet tea to go along with my meal. All orders also come with a basket of hushpuppies. Great selection of sides, including apple sticks. We'd never had these, but think of them as fried cheese sticks, but with baked apples inside instead. The tables are equipped with Ole Time Barbecue Sauce and Ole Time Hot Sauce.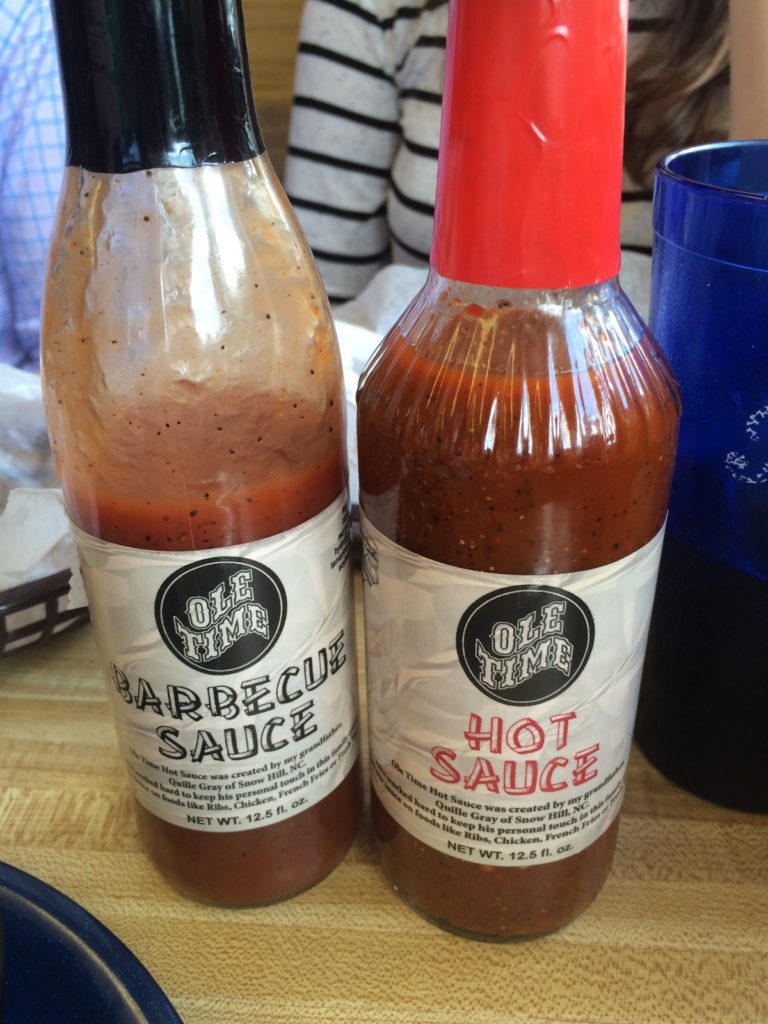 Should you need some Ole Time Barbecue for an event, they also do catering. My Tech Comm organization, STC Carolina, used their catering services in June. The bbq, slaw, and hushpuppies were a hit! Plus, that sweet tea was a nice touch.
Enjoy that ole time barbecue darlin'.
"Classic" Clyde Cooper's BBQ – Raleigh

Classic country Clyde Cooper's BBQ has been around since 1938. They've still got that old style feeling. Going there is like visiting your country grandparents on the back porch. You arrive and they seat you and ask, "What can I get you to drink honey?" Of course, since you're a good Southern grandchild, you ask for your family's sweet tea. Cooper's started out and has lasted as a family restaurant. Cash only keeps it simple and quaint.
Look around and there's a giant fan on the ceiling, a large wooden pig standing guard over the largest booth – where I usually end up sitting with my friends, and tons of pictures of celebs and locals eating at Cooper's over the years.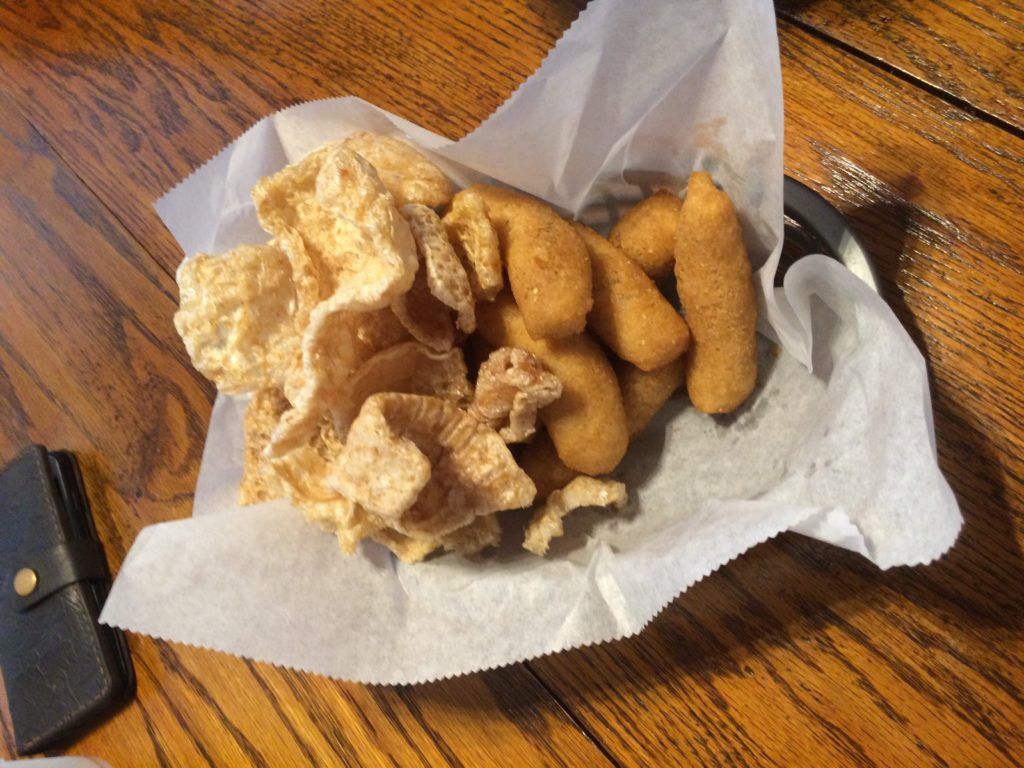 Every table gets a complimentary basket of pork skins and hushpuppies. I ordered the combination of fried chicken, chopped bbq, seasoned fries, and corn mixed with butter beans. You only hear lima beans referred to as butter beans in the south. It reminded many of us of helping our grandmother's shell beans in preparation for "supper." Their menu is similar to Ole Time, but the general consensus between my bbq eating partners and me is that we think the sides are better at Ole Time. Like most bbq joints, this one also has its own sauces on the table; however, these don't have special labels or anything.
Cooper's just keeps it simple. Simple and good.
"Sarcastic" Smokey's BBQ Shack – Morrisville

If you're looking for some sarcasm and a bit of sass with your bbq, hit up Smokey's BBQ Shack, a little diner just off Highway 54 in RTP. The shack on the side of the road with the gravel driveway and surrounding forestry kind of reminds me of the shack that Hansel and Gretel entered in the fairy tale. And it's called a shack for a reason. Nothing special to see here, but that snark and some good bbq. I feel like you're getting a mix of George Costanza and Seinfeld inside. There literally is a sign the wall which says, "National Sarcasm Society." Other random signs like the "Anti-Stress Kit: Bang Head Here" and "Complaints will be heard on the second Tuesday of Next Week" were amusing. The owner's sense of humor really shines in here.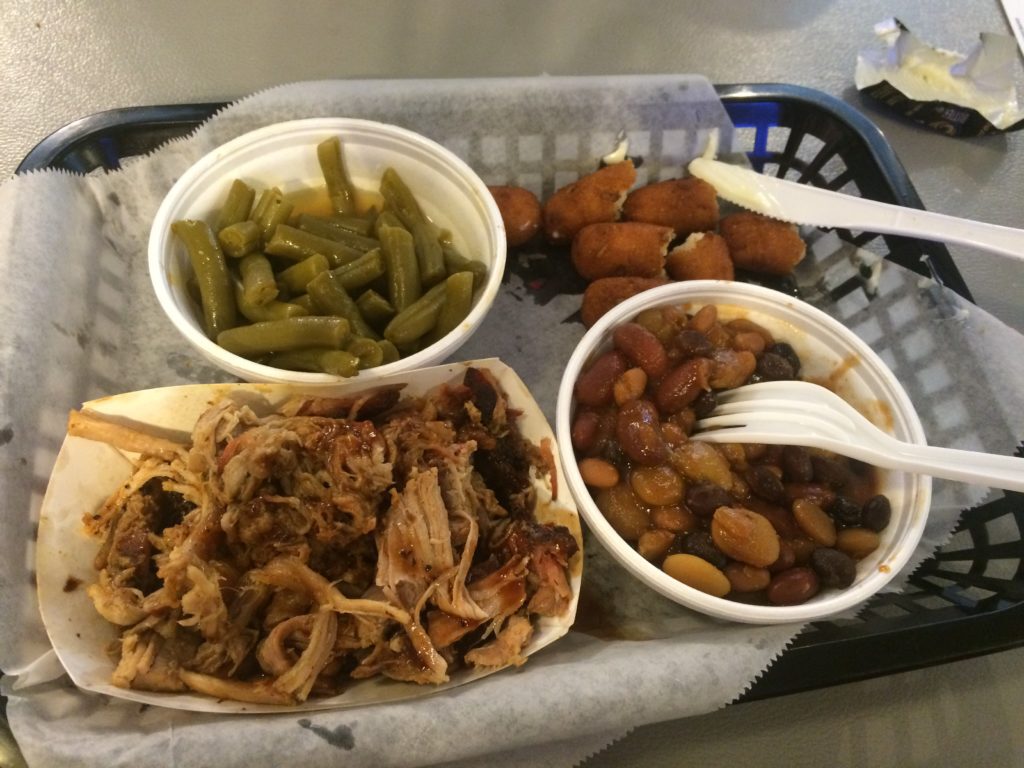 Place your order and take a seat. When they call your number, go grab your order from the counter. My choice was the bbq combination with green beans and mixed beans. Like many other bbq places, you can get your meat on sandwiches or on a platter. Most orders also come with a side of hushpuppies too. Each item is served in its own little paper boat or styrofoam cup. The hushpuppies and bbq needed a little extra flavor. I guess they really do fall in line with that smoked flavor. I've seen that other foodies have also lamented about the dryness in the way the items are cooked.
Unlike most dive bbq joints, this one has beer. I still ordered my standard sweet tea to go along with the bbq, but there is a large cooler with a variety of beer options. Most seemed to be from local NC breweries too, which is pretty cool.
Get smoked over at Smokey's.
"Lookin' Pretty" The Pit – Raleigh (& Durham)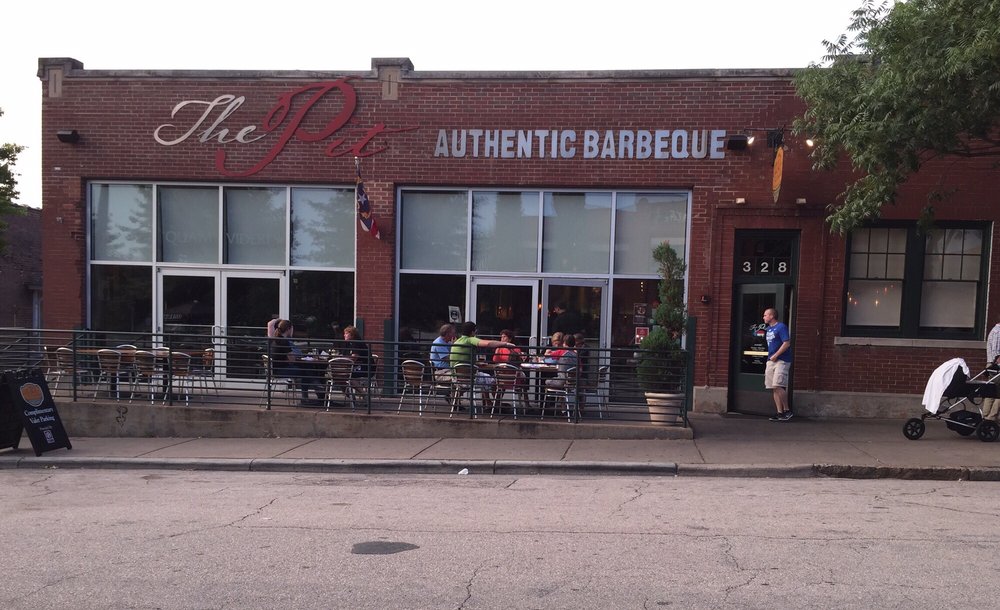 Meet the high class vogue barbecue up the runway. Enter the front door, after getting your car valeted, walk up the ramp, and prepare for some traditional American and Soul Food served with a few alternating servers to cater to your every need. Don't forget to look to your left for a full bar with high tops spread about. Multiple dining rooms are spread throughout the restaurant. When in doubt, take a seat at a small back counter to watch the kitchen cook and smoke the meats. I enjoyed that once when I came in to dine in solo and it was like having my own private show.
I've never had a meal at The Pit which I didn't enjoy. Biscuits and hush puppies are served along with all meals. Usually, I can convince my fellow diners to indulge in some deviled eggs as an appetizer. Southern-Style Deviled Eggs – sweet relish and paprika. They're simply delightful. Then the chopped bbq with bbq baked beans and corn or green beans is my go to. Pit-cooked overnight, chopped and seasoned Eastern North Carolina-style. They have their own sauces and seasonings on the table, which are for sale. The meat always needs a little extra something so I spruce it up with the vinegar sauce.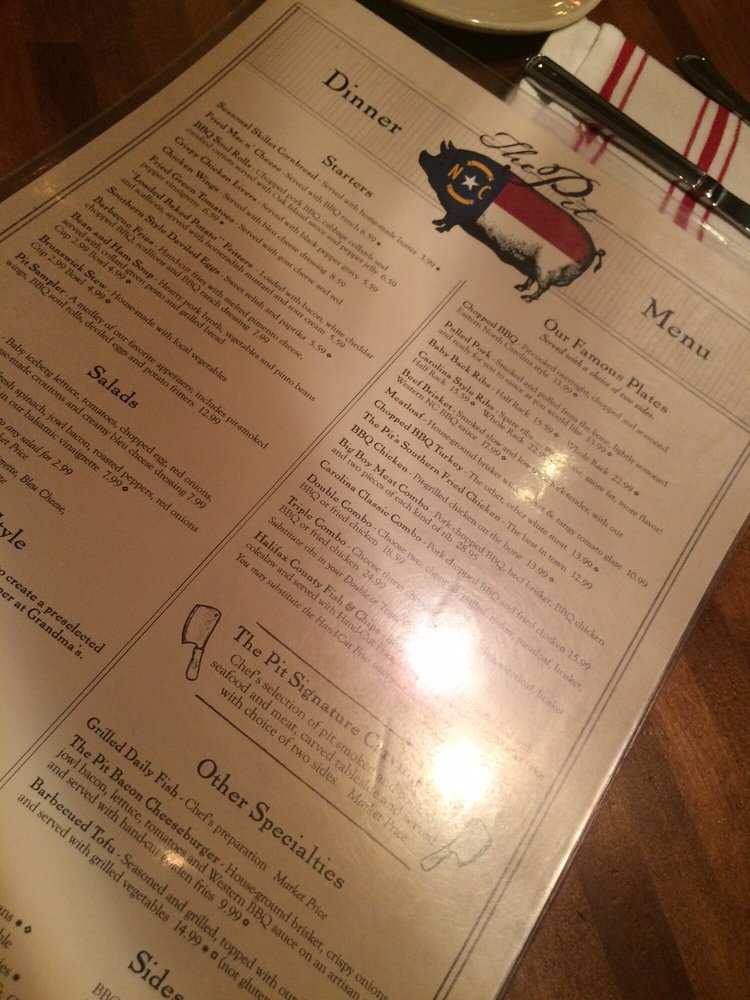 This is no dive and quite often you need a reservation to get a table. Reservations fill up fast and I hate how difficult that can make dining out, especially on a weekend. Because of its reputation and national recognition, The Pit ain't cheap either. $14 for a platter, whereas a meal at Ole Time or Cooper's is $7 – $9. However, they have options for those with dietary restrictions and the vegans and vegetarians won't be complaining when they enter the doors because there are options for them too.
If you're in the mood for the classy bbq experience, The Pit is surely the way to go.
"Corporate" City BBQ – Cary (+ Durham & Garner)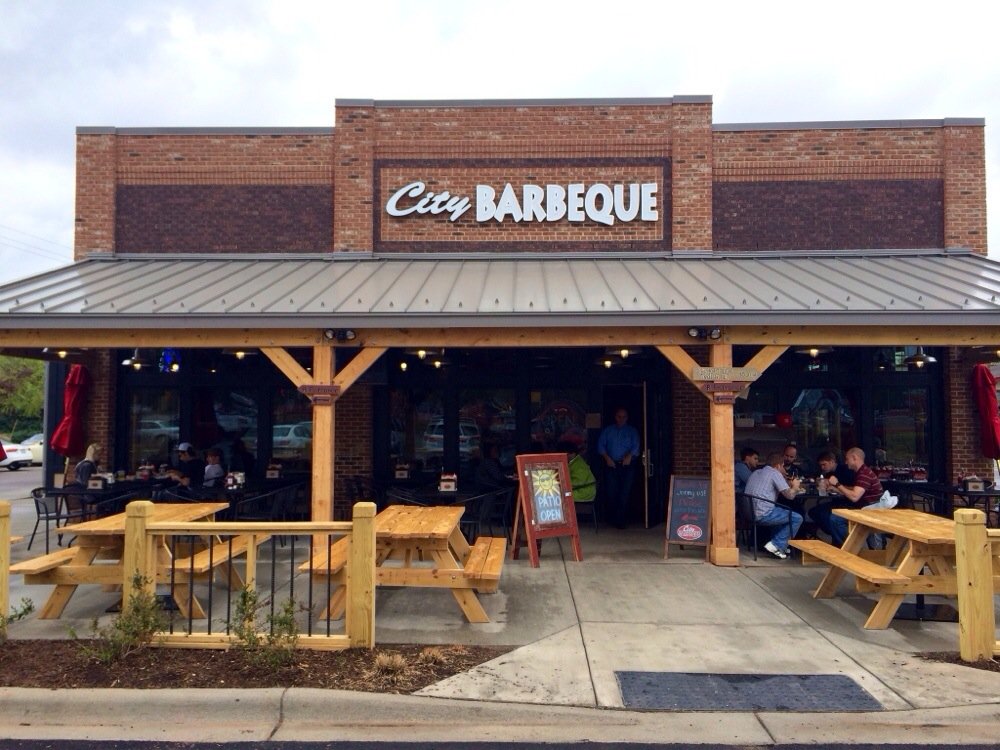 Going corporate with City BBQ still has a homey feel. With locations spread about the east coast and midwest, you'd think the corporate design would overpower the quaintness that comes with most barbecue servings. That's not the case. Rarely would I allow a chain bbq spot to fall within my graces, but this one does. It's actually pretty commonplace and casual while staying true to flavor,quality food and customer service. No pretenses. Country cowgirl time in what is surely an old redone restaurant.
Smoked meats. Enjoy it naked, bunned, or by the pound. Dine in, carry out, or event catering. Eating on site allows you endless access to drinks and sauce. That barbecue sauce is the kind you can drink too.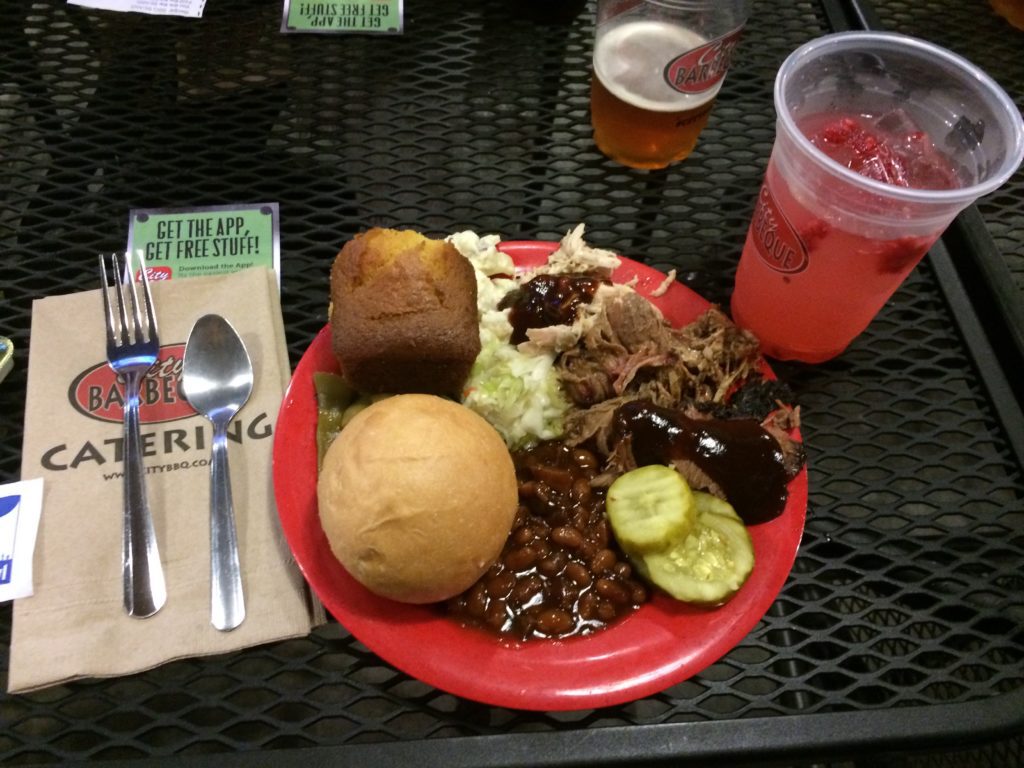 I went to an event at City BBQ last November and because of Elite crew, we got to try more than your typical dining experience would allow. For starters, the rib tasting was riveting. I tried the pulled pork, baked beans, pickles, rolls, slaw – not usually my thing, and brisket. Plus the extra smokey bbq thrown on the meat added a nice extra flavor. Desserts were to die for with fresh and light banana pudding and vanilla wafers, a chocolate brownie, and an apple cobbler. If life was a Southern living eating contest, I'd surely win it.
One advantage of being a chain is more technology and marketing to stay engaged with the customers. Sign up for City Awards or download the app for special offers like free desserts and drinks. Better yet, place your order in advance on the app.
Try not to get drunk on the one and only City BBQ sauce.
The State of BBQ
There's a great divide here in North Carolina, between the eastern and western style of bbq. Since we are located in the triangle, we believe the aforementioned great barbecue establishments satisfy a need for good Southern eats; however, if you crave the authentic eastern bbq, head east of 95.