SEO has become one of the most sought after services in modern marketing. Some marketing managers are privy to unviable SEO techniques like link schemes, content spam, and keyword stuffing. What they may not be aware of is the unsustainable practices their staff or agency are currently doing that can cause trouble down the road.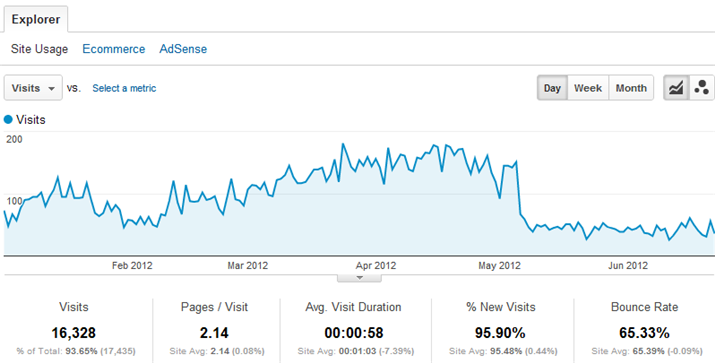 If you run a business – ask around. I'm sure you'll run into someone who has experienced a vendor or even an in-house manager who has led them down a myopic path of link building with anchor text, syndicating articles, or some other foolish technique that may have worked at one time, but is now a negative signal to Google. Some agencies have done irreparable damage to their clients' reputations. Some claim to have SEO 'trade secrets' or other nonsense. Seek them out and talk to their clients before you sign on for a lengthy retainer.
Too many small businesses and even large corporations have been on the business end of a Google smackdown. JC Penny, BMW, and even the Washington Post have all been recipients of some sort of ranking penalty. These big brands were able to recover and don't rely solely on Internet traffic for their business. Can you say the same? Let's take a few minutes to uncover how a particular agency performs in terms of gaining traffic vs. losing traffic over time.
First, let's look at SEMRush, a favorite tool of ours. Put the web address of the agency into their search tool and it will give you a neat snapshot into their traffic, visibility, and other various intelligence points on their web presence. On the right side is a line graph that shows the website's organic and paid traffic. If you click on the 2Y toggle, you can see how they have fared over the past 2 years (among the most turbulent of all the algorithmic updates according to Mozcast).

If the blue line goes upward, then they played it safe and never got dinged for manipulative practices or crummy content spam. If the line runs the other way, then that is where you too should run – the other way.
Red Flags
It's easy to spot an iffy SEO service offering. A red flag should be raised if an agency offers you services and line items that they cannot easily explain. When the SEO consultant is emphatic and certain, he could still be very wrong. Make sure you understand what he or she is doing and why. Just as you wouldn't want an untrained person to perform maintenance on your car, you likewise wouldn't want an unqualified person optimizing your website or managing your pay-per-click campaigns.
As a general rule, watch out for these items in proposals.
Submit your website to 1000s of search engines – Please, don't
Directory, Press Release, or Article Submissions – Penguin hates this
Meta Keyword Tags – Google has forgotten about these (about 10 years ago)
Anything called link building or backlink building – unless it actually makes sense to you
Anything on this tweet
Found a SEO proposal from 2004. No wait, this was sent to me TODAY. Seriously people. pic.twitter.com/pBi0K6rb49

— Matt Siltala (@Matt_Siltala) February 21, 2015
How to pick a qualified SEO vendor
Ask yourself these questions before buying into any SEO service agreement.
What will your audit cover? This is a standard operation of discovery and client on-boarding. An agency who knows their stuff should be able to easily communicate what this process entails and what benchmark data they want to collect.
Are they promising you high rankings? You better make like the Real McCoy and Run Away because these folks certainly are not (the Real McCoy). Promises of #1 rankings are a clear red flag that they cannot possibly control.
Are they being transparent? Again, if the agency cannot communicate value of their techniques, they probably should NOT be doing them.
What are we getting? Reports, action plans, strategy, consulting and experience are great. Stay away from things that the agency cannot easily define.
These are all pretty cut and dry. You should be able to gauge how serious or how shady the agency is based on the above criteria. If you have questions regarding a proposal you've received, drop us a line.