So today is Leap Day, that extra special bit of time we get every four years. A lot of people get really excited coming up with ways to spend this extra day. Me? Well I'm more of a week-by-week planner, not a 365-days-a-year planner, so the 29th day of February doesn't seem so extra in my day-to-day.
But alas, I did turn 29 last week. And now it's the 29th of February. So there has to be something special about that. If nothing else, the number 29 works great in this blog post title.
If you do have a little extra time to learn something extra on this extra special day, you should probably learn about social media. Let's face it, this is something you've been ignoring more than you should the other 365 days of the year, so there's no better time than now. And what's even better, these aren't going to be your basic, fluffy, space-filler social media tips. These are real, honest, hardcore social tips, actively used by a successful Social Media Manager.
So, let's dive in.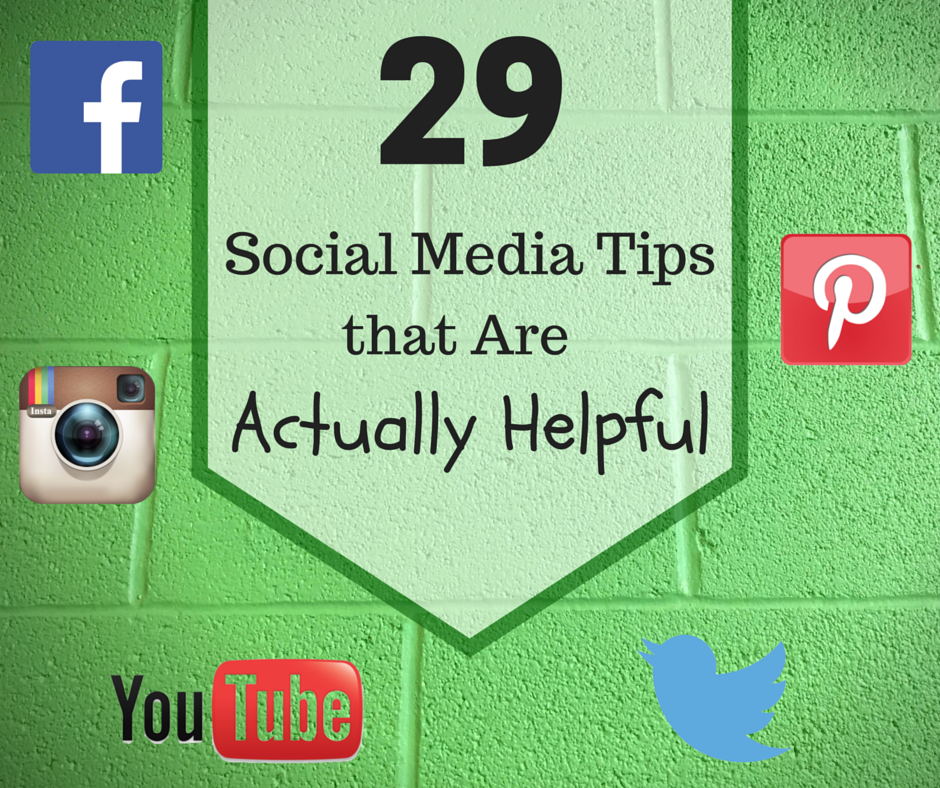 Use Canva. Canva is a free, easy-to-use alternative to photoshop. It helps you make custom graphics to perfectly fit the dimensions of your different social channels. Bad graphics can ruin a good post.
Make sure your social channels match your branding. People landing on your social channels should be able to tell immediately that it's yours because the colors, logos and images are consistent with your website and branding.
DON'T USE ALL CAPS WHEN POSTING. Nobody likes to be yelled at.
Use proper grammar and punctuation as much as possible. Character restrictions on Twitter make it hard to be perfect on this point, but you should be as close to perfect as possible. You want your message to be easy to read, not confusing and cryptic.
Limit the number of exclamation points you use. It's annoying!! When everything you post has multiple exclamation points!!! It cheapens what you're saying!!!!!
Be prepared for bad reviews. The Interwebs is not always a nice place, and people are quick to post any bad experience. Getting a bad review isn't the end of the world, but does require a response. Make sure you keep your emotions in check, and calmly ask the reviewer to contact you to resolve the issue. Getting the conversation offline is key here.
Upload videos directly to Facebook.

If you have an original video you should upload it both to your YouTube channel AND directly on Facebook. Facebook rewards videos that are natively uploaded by making it play automatically in its Newsfeed and appearing more to get more views.

Come up with your own content. You're an expert in your craft. Don't just share what other people are saying over and over, come up with your own, unique posts. Social media is a way to connect with your clients; no one's going to see your business as unique if you just repeat what other people are saying.
Think about the common questions your customers ask, then post about them. Frequently asked questions make great posts that are unique to your business and interesting to your current and potential customers.
Photos you take are better than stock photos.
Don't autoconnect your social channels together. Yes, it's easier to post once and have it distribute everywhere, but no, this doesn't make your channels perform better. You should adjust each post to fit the channel's specifications, word counts and image dimensions, otherwise they will be messy, hard to read and unprofessional.
Do connect your website to your social channels. Make sure you have a link to your website in your social channel descriptions (most will tell you where to enter your website address.) Also make sure to have links on your website leading to all of your social channels. Test these links to make sure they work.
Only use the social channels that work for your brand. There's no sense in spending time on Twitter if all your customers are on Pinterest. Here at Walk West (formerly Greenroom Communications), we conduct a Social Branding Exercise with our clients to determine which channels will have the most resonance with their target audience.
Post regularly. This is one of the hardest things for busy business owners to do. You should post to your social channels weekly at least. Biweekly or triweekly is better. Posting sporadically makes your channels stale — you'll lose followers and social stamina.
Save time by scheduling your posts. If you know you won't be in a position to keep up regular posting, you can use programs to schedule your posts to go out when you need them to. This is especially helpful if you're attending an event or need to remind your customers of a special. There are a ton of social media scheduling programs out there, but some decent free options are Buffer and Hootsuite.
Pay attention to your results. Facebook, Twitter and Pinterest all offer free insights into how your channel is doing. There are tons of more in depth social reporting tools you can buy as well. Make sure you're looking at this information to see what posts are getting the most interaction, what audience you're reaching, and more.
Create blog posts from your best social posts.

Did you notice in your social reports that a particular post got tons of interaction? Continue the conversation with more details by making a blog post out of the topic. You already know this topic interests your audience, so making a blog post about it will let this good content live on your website.

Be nice, be concise. We have short attention spans.


Create a content calendar. Simply download a free calendar template to Excel or Google Spreadsheet and fill in the holidays, birthdays and anniversaries that are important to your business. This keeps you from forgetting key dates, and is easy content to post.
Use hashtags on Instagram and Twitter. It helps.
Don't use hashtags on Facebook. It doesn't help.
Be responsive. When people comment or message you, make sure you respond in a timely manner. You want to be accessible and active.
Find easy, repeatable segments. One of the most common examples of this is #ThrowbackThursday, where people post old pictures of themselves every Thursday. You can do the same thing for your business, or come up with repeatable segments of your own, such as posting new products every Monday.

Don't be afraid to reuse old posts. Most new followers won't scroll through your entire social history to read all of your old posts. If a post is still relevant, it's fine to refresh it and reuse it.

Boost important Facebook posts. Facebook has made it even harder for business pages to show up in people's Newsfeeds, so if you have a post you really want people to see, you'll need to put a few dollars behind it. Even just boosting a post for $5-10 can get it a lot more views and interaction.

Make Facebook photo albums. This is especially important if you have a local business. You can have an album for your storefront, products, employees, events and more. Organizing your photos helps new potential customers get a better look at your business, rather than having to scroll through the random photos in the automatic "Timeline" photo album.

Interact with other brands. Be playful, be fun, and make sure to tag them.

Go live. You can now stream video live on Facebook with Mentions or on Twitter with Periscope. There are other live streaming apps as well, such as MeerKat and Blabb. Try them out, people like immediate interaction and inside scoops.

When in doubt, post about cats & dogs. It still works. They're just so freakin' cute.

There you have it, 29 real social media tips that are actually helpful. Do you have any more tips to add to my list? Did you find any of these tips to be super helpful? Let me know by commenting below!

The social stratosphere is constantly updating and changing, so we're continually learning new things, and that's great. Never stop learning. Happy Leap Day.

By: Jen Layton, Social Media Manager