Kevin Bacon's Got Nothing on Me: A 4th of July Coincidence 27 Years in the Making

It's a philosophical question, really, depending on your religious or spiritual beliefs. Are some of life's biggest coincidences just that? A coincidence. Or something else, like fate.
On July 4th, 1991, I experienced the highlight of my childhood dreams of a life in musical theater when my U.S.O. group, The Florida Girls, performed on the U.S.S. Nimitz in the middle of the Persian Gulf. The massive aircraft carrier was positioned with its battle group in the waters off of Iran, Saudi Arabia and the United Arab Emirates protecting American interests in the Middle East as part of Desert Storm. The conflict with Saddam Hussein was over, for now, but heavy U.S. military presence remained.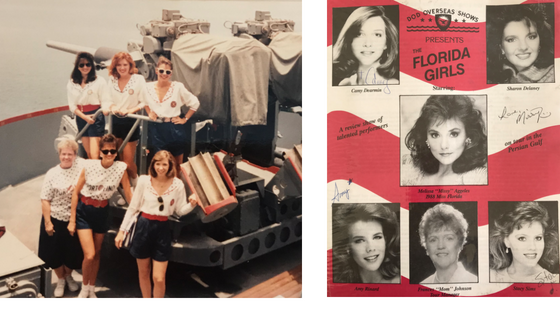 The all-girl group I was fortunate enough to be a part of had been asked by the Department of Defense to do a mini-tour for Independence Day as a show of gratitude for the thousands of men and women serving in the Middle East who were away from home and their families. 
After flying from Florida to Washington, DC, we departed on our overseas adventure from Andrews Air Force Base on board a military C-140 with two other musical acts.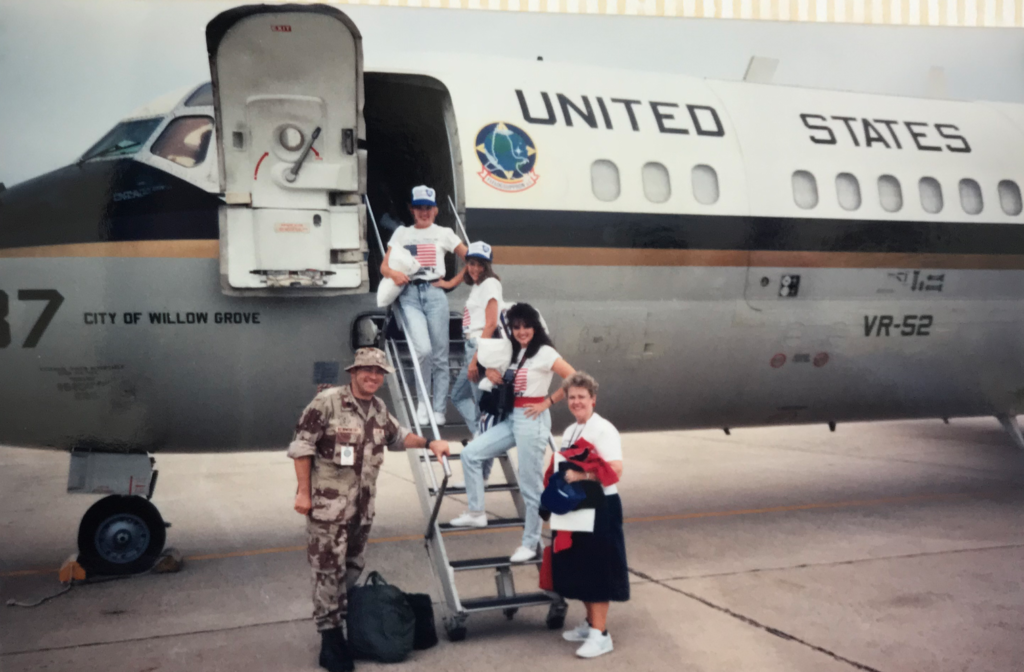 An incredibly long flight with cargo stops along the way in Newfoundland, Iceland, and the Azores finally landed nearly 24 hours later in the Persian Gulf. A quick overnight stop in Bahrain helped us adjust to the extreme heat and time difference. 
Then, we headed to Dubai where we boarded the U.S.S. Samuel Gompers, the only co-ed Navy ship at that time. It would be our home away from home during our stay in the Middle East.
On July 4th, our group was up early and ready to catch a tender boat that took us from the coast out to the Nimitz. As we approached, its sheer size nearly took our breath away. 
This certainly would be one of the most exciting performances of the Florida Girls' tours around the globe over the years. Before the show, we toured the carrier and walked along "Steel Beach," what the sailors called the huge deck where we would perform that afternoon.

As was typical for most U.S.O. shows, our audience was fantastic. They were so appreciative of the familiar, traditional American music we performed and the feeling of home it represented. And for us, we felt like rock stars. Five thousand people singing along to our patriotic songs while looking over the bow of this enormous ship. It was a once in a lifetime moment that, for me, ranks right up there with having a family and graduating from college.
Little did I know that 27 years later, I would experience a six degrees of separation situation that makes Kevin Bacon's storied liaisons pale in comparison. For the last ten months, my 10- year-old son Pierce would come home from school every day with all sorts of stories from his teacher, Mr. Metzger. There was one about growing up in Los Angeles and working at Universal Studios. Others about childhood pranks and mistaken identity. And then, a harrowing tale about a helicopter crash that broke half the bones in Mr. Metzger's body. All I know is that the 4th grade was a magical year for Pierce, I think partly because of having his first male teacher. But more so because Mr. Metzger delighted the kids with intriguing escapades from his youth while inspiring them through engaging lessons.
One afternoon in May, Pierce and I were driving home from school when he recited another "Mr. Metzger story." In it, he mentioned the U.S.S. Nimitz. I immediately responded, "Hey, I was on that aircraft carrier." The next day, we happened to be going to school to watch a living history performance by the 4th grade students. Afterward, I jumped straight up to question Mr. Metzger about the U.S.S. Nimitz reference from the day before.
Mr. Metzger described how he served on the Nimitz for three years and even had his annual, similar to a yearbook, from his time on the carrier. I proudly told him that I had performed on the Nimitz on July 4th, 1991 as part of the U.S.O. He then responded, "The Florida Girls?" 
"What? How do you know the name of my group?" I screeched like a giddy schoolgirl. 
We stood there in awe at the remarkable coincidence 27 years after our first "meeting." Who could have ever predicted that a young sailor from the West Coast would end up becoming my son's favorite teacher at Cathedral School in Raleigh, North Carolina decades later?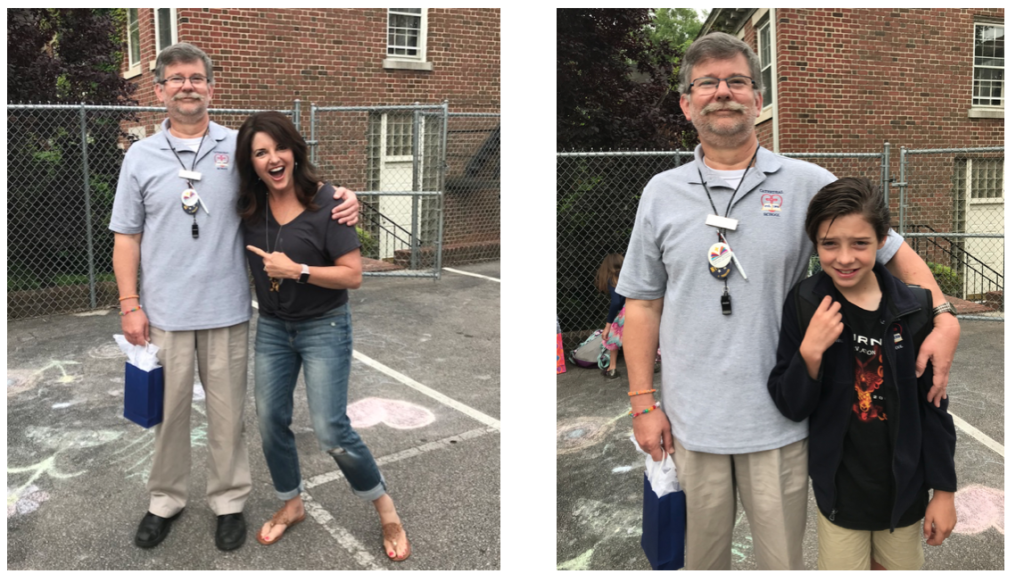 A coincidence? I think not.
Thank you to Mr. Metzger and all the men and women serving in the military for what you do to keep our country safe. 
Happy 4th of July.