I always thought I would be diagnosed with cancer one day. After all, my father, mother, brother and daughter have had cancer.  But to hear those words myself last April still came as a shock.
It's Never a Good Time
The timing of the diagnosis seemed like an extra punch in the gut. My husband had been laid off two months prior and we lost our health insurance in the process.  My world seemed to be crumbling around me.  So we put on brave faces for our sons and began this marathon of treatment.  And it is a marathon. For the first few months, I teetered between courage publicly, and extreme anger privately.  All the typical questions of "why me" circled in my thoughts daily. Sometimes they still do.
One Foot in Front of Another
Getting through 5 months of chemotherapy was difficult. No question. Sitting in those recliners with tubes hooked up to the port inserted into my chest can be sobering. And every week I would see familiar faces in the chairs next to me, each one moving forward on this journey, one step at a time.  The oncology nurses quickly became my friends. Their upbeat attitudes were as important to my battle as the drugs they were giving me.  Each treatment, they helped me count down until the last chemo session on September 16th.  Along the way, people have told me how strong they think I am. Honestly, when you have no choice – you find a way to do it.  One of the keynotes I deliver focuses on using grit and gratitude to navigate life's many obstacles.  It doesn't often come naturally so I have to dig deep and make it happen.  You can, too, when push comes to shove. Being grateful forces you to think beyond your current circumstance, which can be a very good thing.
The Power of Friendships
During those months in chemotherapy, you could describe my days as speed dating.  Almost every week, I had a different friend or family member with me, holding me up when I was sure I couldn't anymore.  My clinical team at UNC REX Healthcare was amazed at the support system I have. So am I. Why did it take getting cancer to realize how lucky and blessed I am to have this extraordinary network of people willing to do anything to help me?  Not only personally, but at work, too.  My peeps at Walk West (formerly Greenroom Communications) have stepped up so our little company didn't miss a beat.  Folks jumped in to take my place at client meetings, lead training's, and took on the day to day business of running an agency.  Does your company have a plan to step in when someone faces a life changing event?  If not, it's time to develop a plan.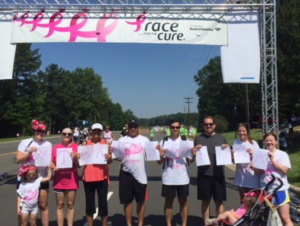 #Team Sharon
Now is the Time
After a tough year of chemo, surgery and radiation, I'm on the home stretch. What better time than the week of Thanksgiving to stop and reflect on how THANKFUL I am.  Seriously.   As you read my list, start making a mental note of your own list of things to be thankful for.
Thankful for:
Faith – what I hold on to on a daily basis.
Family – they are the air I breathe.
Friends – for their unconditional support.
My clinical team at UNC REX Healthcare – they are literally saving my life.
My work – being productive is part of my therapy.
My colleagues at Greenroom – my squad is simply the best.
Netflix – my escape from difficult days.
My comfy bed – for the many naps I take.
A sense of humor – no way to get through life without it.
Steve Harvey – for the laughter that is part of my medicine.
My new rack – to replace the diseased one. Thank you Dr. Lyle.
My hair growing back – whew. Just whew.
Dark chocolate – need I say more.
What's on your list?
P.S.  I have a PSA that needs to be spread.  Ladies and gents, if you have dense breasts, PLEASE get a 3D mammogram.  I had three tumors, including one that was an inch wide. You could not see the tumors on a 2D mammogram, only on a 3D.  Ask your doctor and insist on getting one. It may cost you an extra $60 – $90, but believe me, it's cheaper than chemotherapy.  I still believe that if I had a 3D mammogram one year before, we could have caught my breast cancer at an earlier stage and I wouldn't have to undergo as much aggressive treatment.
Thank you.